Skip to main content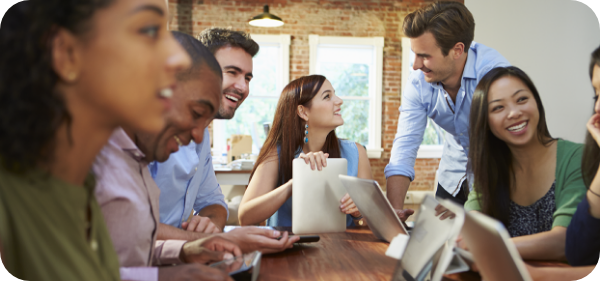 Make sure your TMC is full of TLC
Booking for 10 or more business travellers? The right travel partner will make your job that much easier.
Controlling costs, streamlining bookings, managing duty of care, and keeping track of reports efficiently all comes down to one thing. Which travel management company (TMC) you work with. 
There are hundreds of companies out there that promise results. Finding the ones that will actually improve your travel program? That's where things can get tricky.
While you're sifting through the promises and promos, you'll find three paths you can go down.
Work with a local TMC
Work with a global TMC
Book travel through multiple websites and providers
Let's break down the pros and cons of these options. We'll also take a look at the differences between local and global TMCs. Booking travel for small business is about to get a whole lot simpler.
Single TMCs: Your one-stop-travel-shop
Pros
Stronger relationships: A single TMC will get to know your business. That means your entire travel program managed to suit you.
One streamlined system: No more teaching your staff to use multiple complex systems.Once they learn one they're done.
One monthly invoice: Give your finance team the break they deserve. All your travel will be consolidated into just one invoice each month.
Overarching reports: Know exactly what your travel spend is. More importantly, find out where you're overspending with consolidated reports that make budget decisions easy.
Competitive rates: Always get the best deal. Making bookings through a single supplier allows them to negotiate better rates and find you the best perks.
Efficient traveller tracking: Know exactly where all your travellers are and how to contact them, day or night.
Cons 
Growing pains: Are your staff used to shopping around? Sticking to a single provider may take some getting used to. 
 
More Suppliers = Too many cooks in the kitchen?
Pros 
Spoilt for choice: Working with multiple providers means you can find the diamonds in the rough. When you can choose the best option for each journey, you can prioritise flights, hotels, on-the-ground transport, expenses, or risk management.
Cons 
Time-consuming: All that research can be a drag. Sifting through multiple suppliers will always slow down the booking process.
Weak relationships: One-time meetings don't make lasting friendships. By working with multiple suppliers, building strong relationships will take longer.
Slow training: Every booking system is different. Your staff will need to learn how to navigate multiple systems, policies, and booking tools.
Multiple invoices: Prepare for the flood of invoices. At the end of the month your finance team will lose time consolidating invoices from every different supplier.
Confusing reports: Reports will come in from every direction. Keeping track of your overall spend will take more time and effort.
Fewer deals: Say goodbye to insider deals. By working with multiple providers, you won't see big discounts across the board.
Jeopardized safety: Finding your travellers in a crisis will take longer. This makes your duty of care obligations more complex and tricky to manage.
 
Tossing up TMCs: Let's think local
Pros
Strong relationships: Want to build strong personal bonds with your TMC? A locally-based supplier will take your call.
Easy regional travel: Local suppliers know your area. If you're flying regionally, you can bet they'll already have relationships with the relevant airlines, hotels and ground transport providers.
Single point of contact: Book faster and easier. Your local contact will already have your traveller's preferences locked and loaded.
Cons
More expensive: No global presence? Discounted global rates are unlikely.
Lack of resources: At locally-based TMCs, resources can be sparse. If you're looking for seamless tech and global access, scroll on.
Inflexible pricing: Flexible pricing options - like opening an account for your billing - could be off the table.
Limited support: Local TMCs mean local business hours. In a crisis, don't expect 24/7 support.
Global TMCs, worldwide savings
Pros
Competitive Rates: Global TMCs give you global rates. Their negotiation strength can secure competitive deals you won't find anywhere else. Bring on the savings!
Seamless tech: With global resources you can expect all-encompassing tech. Book, manage policy, and reach travellers online.
Constant support: Global reach makes duty of care that much easier. Meet obligations with 24/7 support, emergency assistance, and tracking technology.
Flexible pricing: Need a specific account opened? Easy. Global TMCs have the luxury to be flexible.
Cons
Impersonal touch: To some global TMCs, you're just a number. Dealing with call centres that process thousands of customers might not work for you.
Low priority: If your travel spend is considered 'small' by a global TMC, you could be pushed to the side.
Where to go from here?
There's no 'best TMC' to work with. The best option for you will depend on your business. While you're tossing up the options, here are three factors to consider:
Culture
You'll be working with your TMC day in and day out. Choose a company that aligns with your culture and understands your business.
Ability
Don't settle for less than what your business needs. If you need 24/7 assistance and travel tech, factor that in. Consider the future needs of your business as you continue to grow.
Price
Compare fees and do your research. We keep our fees simple and transparent. Our fees include added services like 24/7 support and reporting, but not all TMCs offer a simple model like that. Make sure you're aware of any hidden costs for added services.
So, do you want global presence or a local feel? With Corporate Traveller you can have both.
We're one of the largest global travel management companies out there. That means we hold powerful global negotiation strength and can give you access to the best global perks. At the same time, we're dedicated to companies with small to medium travel spends. With local offices in countries all across the globe, we deliver global deals with a local, personal feel. We also have Melon, our legendary tech where you can book, report, expense, chat, and rack all on one platform.
Some things work better together.
Peanut butter and jelly. Strawberries and cream. Wine and cheese. 
Top notch service and next-level tech.
Give your travel programme the match made in heaven that is our all-encompassing travel tech, powered by people.
Chat with our experts.