Skip to main content



The only corporate travel platform you need.
Meet Melon – our digital platform that makes travel management a breeze.
It's your go-to for bookings, safety, reporting, and policy.
One travel management platform. For everything.
Melon gives you everything you need on one easy-to-use digital platform. That means one sign in, one dashboard, and one place to book your entire trip.
View reports, manage spend, update policy. Easy.
Melon also plays well with others, providing key integrations with leading expense and HR systems.
Helping companies travel the globe simpler, faster, easier.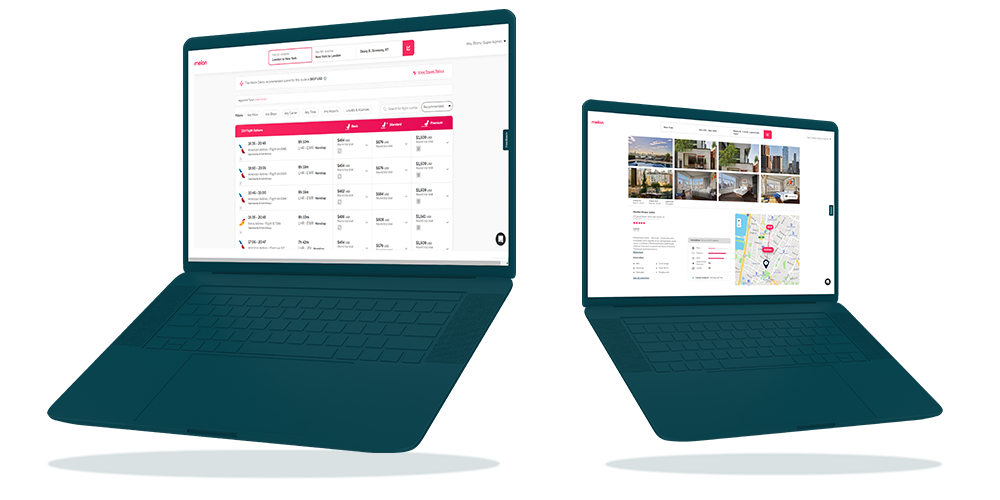 Get started with efficient online bookings
Picture a world where every flight, hotel, and car rental aligns perfectly with your business travel preferences. That's Melon.
Your favourite airlines, hotels and car hire companies are prioritized.

Bookings take less than 5 minutes. For everything.

Arrange it all at your desk or on-the-go with Melon mobile.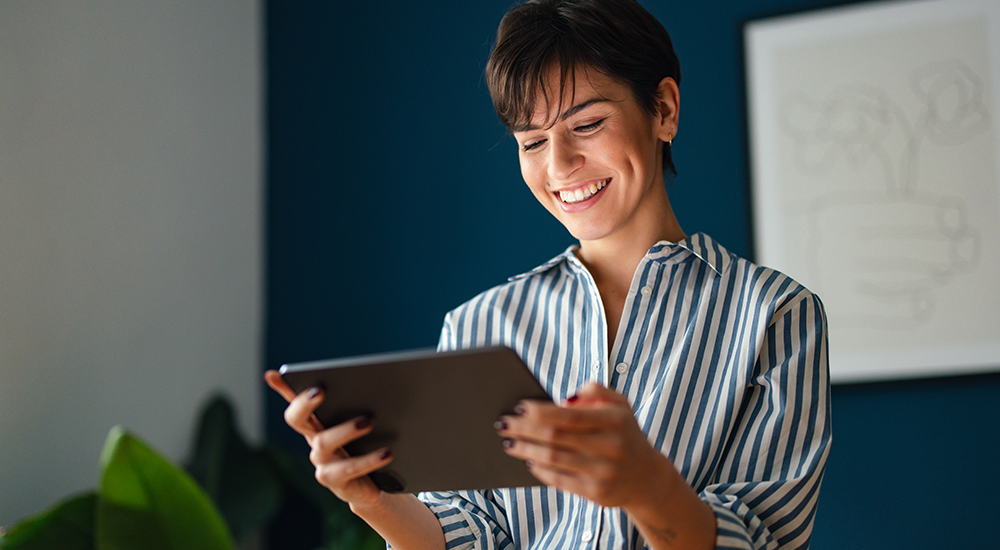 Smooth approvals for everyone
Melon's intuitive policy controls let you customize your travel policy to suit your business needs.
Keep travel policy in check without compromising traveller preferences

Our 'Recommended Spend' algorithm helps ensure your travellers stay within budget

Automated approval flows get rid of the back-and-forth, saving everyone time.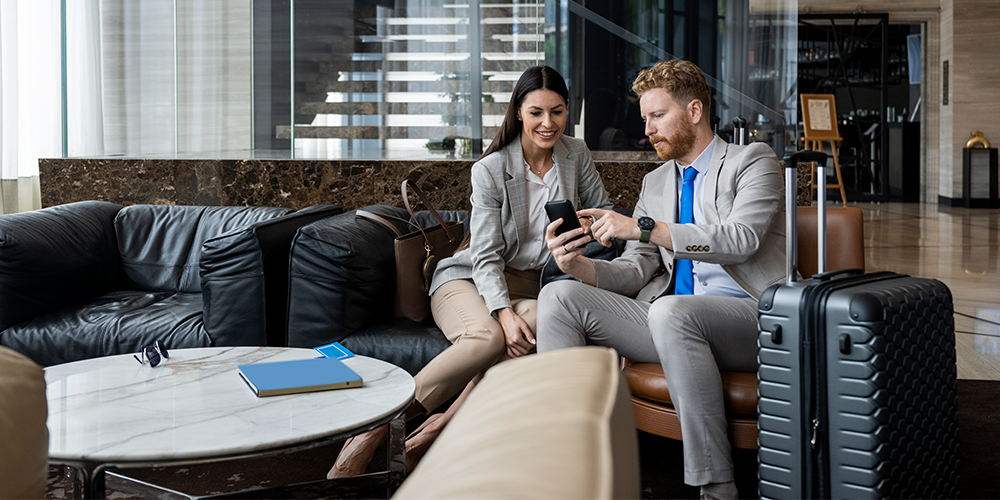 Safety for your travellers
When duty of care meets innovative tech, your people are in the best possible hands.
A mobile app that keeps travellers and bookers instantly updated.
24/7 real-life human support that is just a tap away.
For serious incidents, run immediate reports on traveller's whereabouts.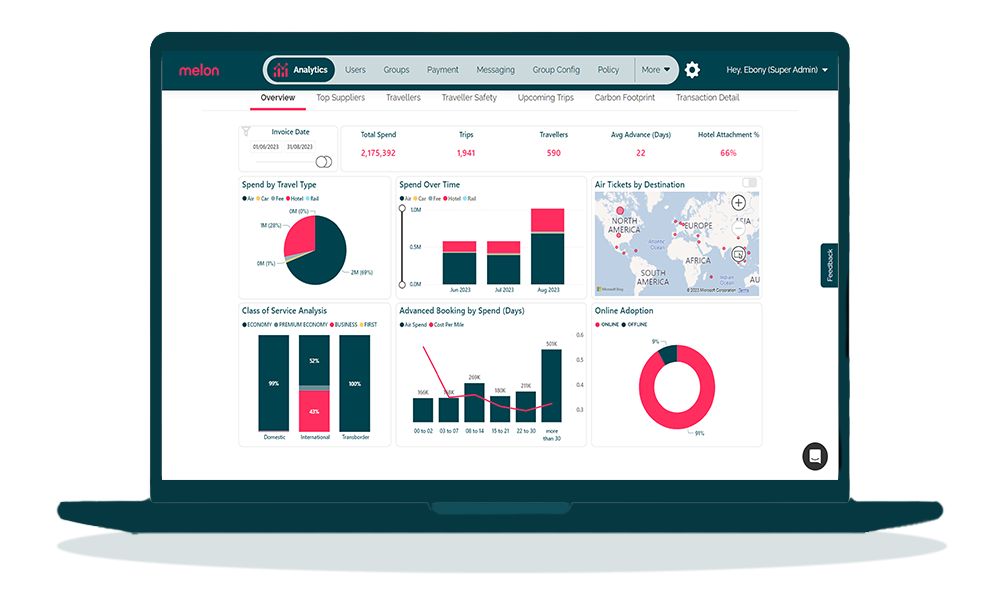 Data that's crystal clear
Melon takes your corporate travel data and makes it decipherable, providing the visibility your business needs.
Access it all - travel and finance data, traveller tracking insights, sustainability goals, risk management, and more.

An easy-to-use reporting portal provides easy-to-read visual reports.

Real-time snapshots empower you to make informed decisions, saving you time and money.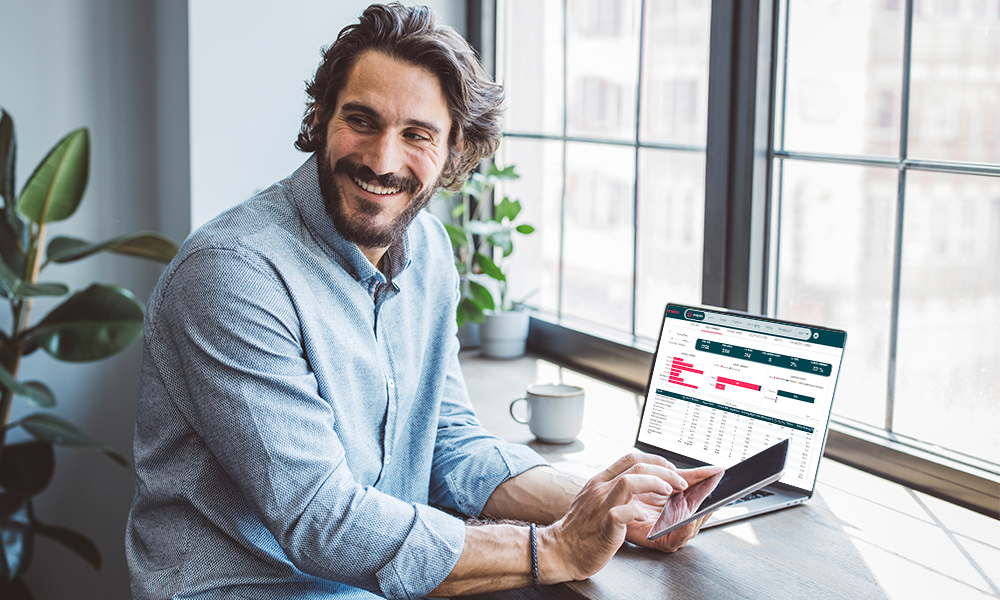 Simplified expenses for everyone
Booking with Melon means centralized expensing and reporting tools you can count on. Melon seamlessly integrates with expense platforms so you can:
Quickly upload receipts

Pull easily-digestible reports

Visualize your travel spend
Why you'll love our travel management platform:
Booking? So intuitive, you're booked in just 5 minutes.

Dive into reports that break down expense management.

Hunt for bargains? Nah, access the best-negotiated rates, worldwide.

Need guidance? Chat to a travel expert with a mere tap.

Stay clued-in on the A to Z of business travel.
Manage all your business trips through the platform that's always in the know.