Skip to main content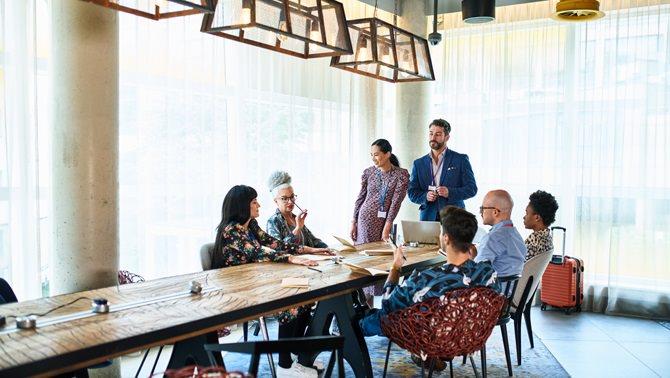 Streamline processes with a travel policy template
Do you shudder at the thought of building a business travel policy from scratch? Does the mere mention of "policy" have you running for the hills? If so, you're not alone.  
Building a comprehensive travel policy for your company can be a daunting task – especially if you're starting from the ground up. But don't worry, Corporate Traveller has got you covered.  
From setting clear goals to prioritizing traveller safety, we'll cover everything you need to know to create a travel policy that works for you. So take a deep breath, grab a cup of coffee, and let's dive in.  
Psst – Download the travel policy template at the bottom of this page to help you get started!
First things first – what are the goals of your travel policy? 
Writing a travel policy is kind of like playing a game of darts. You need to know what you're aiming for in order to hit the bullseye.  
So, before you start building or revamping your travel policy, take a moment to determine your top two or three goals for doing so. Do you want to reduce business travel costs so your organization can splurge on fancy new desktops for the whole office? Or maybe you're tired of sorting through piles of receipts and want to improve expense tracking.  
Whatever your end game is, adding those goals to the top of your corporate travel policy template will help ensure that your policy is set up to meet your targets.  
What to include in your travel policy 
Now that you know what you want from your policy, let's talk about what one should look like. 
A well-planned travel policy answers all questions about company travel, including everything you want employees to know AND be accountable for. Without this framework (and great travel management software to support it), business travel can quickly spiral into a free-for-all mess. 
A starter travel policy could include basic instructions on: 
Booking information 
Domestic flights 
International travel 
Car rental/transport 
Accommodation 
Internal communication 
Traveller safety and wellbeing 
Capture your instructions for each of these expense categories in a document (like a business travel policy template) that can be shared and developed with a travel management company. It's also a good idea to share this document internally and potentially with one or two regular travellers in your organization to sense check. 
1. Booking information 
When it comes to creating a travel policy, it's important to outline the entire booking process – and yes, we mean the entire process. Your policy should cover everything from approved tech for booking and steps for change requests, to the importance of tracking and recording all travel bookings. And don't forget the details!  
Make sure your employees keep their information up to date, and know what information needs to be included with their profiles, such as their job number or department. This help with budgeting and cost control, but it also makes it simple to manage changes or cancellations. 
2. Transportation 
Transportation expenses can include air travel, train or bus tickets, car rentals, and taxi or ride-sharing services. A comprehensive travel and expense policy should be clear about which types of transportation are allowed and what limits are in place.  
For example, team members may be allowed to rent a car for up to a certain cost per-day or only use a ride-sharing service for a business trip under a certain distance. Are your employees flying economy class or business class?  
The policy should clearly state which class of flight bookings are applicable for expense reimbursement. 
3. Accommodation 
Do you have a policy on which hotels your employees are allowed to stay in and what the maximum per-night rate is? And if your employees don't book through an agent, are you driving them to your OBT and defining capping amounts for hotel bookings? Be clear so you're not overpaying for hotel rooms or other accommodations.  
You can also define what extra costs your organization isn't willing to pay for. For example, does your budget include parking fees? What about room service and entertainment expenses? Define these business travel expenses now so you don't have to dispute them later. 
4. Traveller safety and wellbeing 
As a travel manager, your duty of care is to prioritize the safety and well-being of your travellers. Putting people at the heart of your travel policy means taking strategies to ensure their safety and comfort. This includes using a traveller tracking function (find one in Melon!), providing emergency protocols and resources, and ensuring that liability and insurance considerations are covered.  
But duty-of-care doesn't just stop at general safety concerns. Building inclusive policies is essential to making all employees feel comfortable and welcome while traveling. When filling out your company travel policy template, make extra considerations for people who are more at risk for discrimination, such as people of color, LGBTQ+ individuals, and travellers with accessibility needs.  
Remember: your goal should be to create a policy that naturally accommodates your employees' needs rather than one that requires them to need personal accommodations. 
5. Internal communication 
So, you've written your travel policy? Congrats! Now, how are you going to get your employees to care about it?  
It's important to consider how you'll get the word out about your policy before it's finalized. Think about training sessions or a communication channel to keep everyone is aware of the policy and its contents.  
You'll also make sure you communicate the policy to the business leaders in finance or human resources. Once your policy is in place, set up a timeline for review and revision (we recommend you check back at least annually). And when updates are made, be sure to communicate those changes clearly to your employees.  
Build a foundation and review your policy as your company grows to make sure your program runs efficiently and keeps on budget long term. 
Ready to level up your business travel?
Download this template of travel questions to guide the first draft of your policy. Then connect with one of our travel specialists directly, to help you roll the policy out to your business.