Skip to main content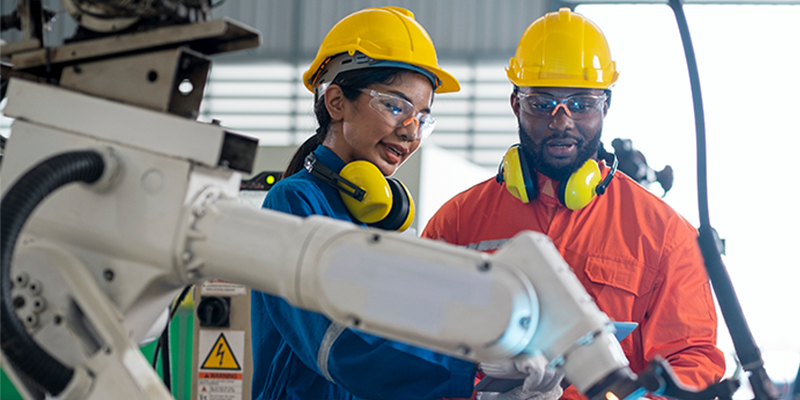 Want better value for your manufacturing travel? Look no further.
Manufacturing industry travel comes with its own set of complexities, so it's important to know that your company, and your team, are getting the most out of it. Negotiating better prices and making sure you can access perks that add value and save money is time-consuming, so why not offload that to a travel management company?
Corporate Traveller has you covered! Our parent company is Flight Centre Travel Group (FCTG), which ensures our global buying power allows you to cash in on millions of exclusive perks and deals we've negotiated over time with our trusted suppliers. Plus, we offer the personalized service of a boutique TMC, meaning you get the best of both worlds.
Our customers have the chance to work with our Customer Success Team to look for areas in their travel programs that need improvement, as well as make sure you're completely thrilled with our partnership. They'll offer proactive insights and help you look for cost savings, added value, as well as policy improvements that make your travel program easier to navigate, and way more efficient!
We really appreciate the support that Corporate Traveller gives us, let alone the savings it's provided. Modern Niagara was a team that never used a travel management company in the past but now we see the value of having your team behind us!  - Elizabeth Levi, Executive Service Manager @ Modern Niagara
Need something specific? We'll liaise with suppliers to make sure you're getting the best deal possible for the products you need. Whether you need options for long-term stays or you have one-off requests, we'll take care of the details and take it off your plate.
Air travel made simple
Our flight contracts offer exclusive benefits and more flexibility, which makes manufacturing travel easier than ever before. When you're travelling to remote locations around the world, it's like trying to find a needle in a haystack. We'll make sure you're getting the best, safest, and most flexible air options and ensure that your team travels in comfort.
No need to worry about logistics either; our team has experience moving groups of people and equipment, so you can be sure you've got the people and the gear you need on arrival. Phew!
Last-minute changes and cancellations? Restrictive fares mean dollars lost and expensive rebooking policies. We'll keep track of your travel credits and make sure they're utilized as often as possible and that you've got the reporting to keep visibility on your spending.
The comforts of home, anywhere in the world
Hotel stays are also made easier with access to discounted rates and added perks. Your travellers can rest easy knowing that their accommodations are taken care of, and they'll have all the comforts of home, no matter where in the world they're stationed. Take advantage of our Melon exclusive rates which have additional perks like:
Free breakfast

Free wi-fi

Free cancellation (up to 24 hours)

At least one other exclusive amenity (late check-out, free upgrades, etc)
We'll work with you to find the best solutions for your people on the ground to keep your projects rolling along.
Car rentals that won't break the bank
When it comes to ground transportation, car rental companies have deals and corporate rates globally that vary depending on the size of your company. At Corporate Traveller, we have exclusive discounts and competitive rates so that getting around in-destination is as seamless as possible. Plus, if you need to make changes or extend the length of the rental period, we'll take care of it.
Need to transport crew? We can work with suppliers in destination to make sure you've got the type of transport you need for the length of the project. Leave it to our experts, we've got your back.
To put it simply – Canadian manufacturing companies have trusted us to handle the ins and outs of their travel for decades, and for good reason! We deliver on service, savings, and added value time and time again.
Cannot say enough good things about Neil and working with the team at Corporate Traveller. Service is always spot on for me and my team!
- Mike Baker, Operations Manager @ Mulitvac
Ready for better manufacturing travel management?
Lets chat!

More manufacturing travel goodies we think you'll love: