Skip to main content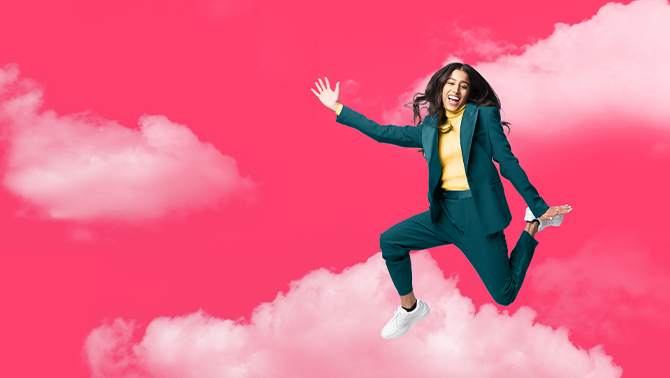 Upgrade to effortless business travel
If the thought of travelling for work is giving you unnecessary stress, it's time to reimagine corporate travel. Business travel should feel like a breeze, and when all the pieces fall into place, your trip is more likely to be a success. Why settle for a corporate travel agency that provides anything less than stellar service? 
 
When you work with Corporate Traveller, that's the service we strive to provide. Our corporate travel services blend knowledgeable people with seamless digital experiences. You deserve an exceptional level of service every step of the way. 
How business travel is a catalyst for your success
Travelling for business is an investment for your organization, regardless of its size. It takes time, money and enormous effort to send your people around the world. Your corporate travel program needs to be able to present plenty of opportunities for your people to succeed, and in turn, drive your company's success and growth.  
What are the key ingredients that go into developing successful business travel programs?  
Personalization – tailoring your program to meet your company needs and culture. 
Empathy – considering the needs of your travellers and building it into your program. 
Efficiency – building your program to run smoothly with clear processes.  
Accuracy – having systems and tools in place to minimize the margin of error, and deliver visibility of your overall program. 
When you have the right balance of each, everything works smoothly, but when one ingredient is off, you most certainly do. It could be as simple as one cancelled flight, a missed connection, or as major as a political event or natural disaster. And let's face it, if disaster strikes, you need someone to have your back. 
The power of outsourcing: How SME businesses can leverage external expertise to provide the rocket fuel for business growth.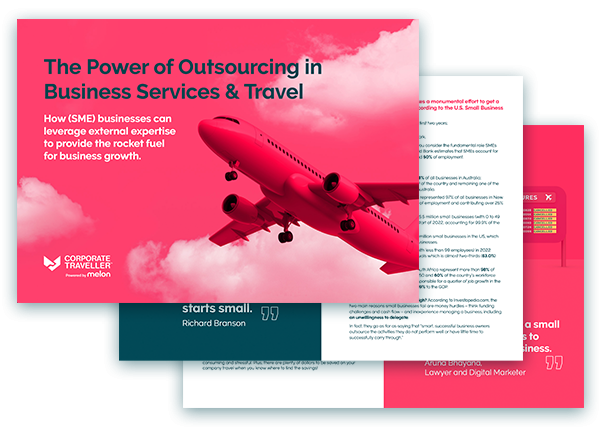 When it comes to business growth, you'd be hard-pressed to find anyone who would argue that expert knowledge doesn't matter. So how are companies approaching professional services in a post-pandemic world? 
Download the report to learn:
Are companies bringing expertise in-house or outsourcing?
What are the current trends?
Making sense of your choices
A whole lot more!
 
1. We have the most knowledgeable corporate travel consultants in the industry
Many of our travel managers or travel consultants have decades of experience under their belts, which means they understand the ins and outs of the industry. They take the time to know who you are and what you like so that they can provide you with exactly what you need. This expertise comes in particularly handy when something unforeseen pops up, like a delayed flight, and they'll work their magic to take the stress off of you.
Ready to meet the corporate travel management team that makes business travel effortless?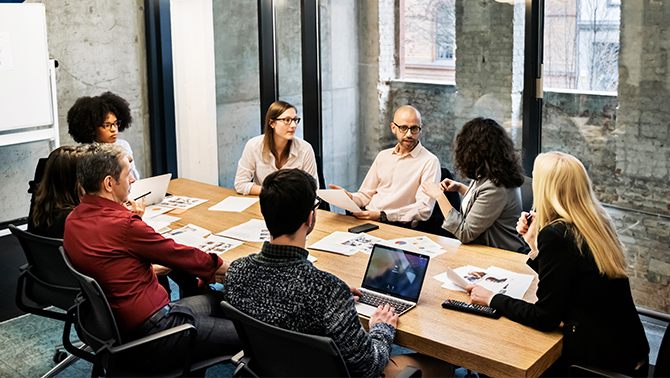 2. The best upgrades don't cost extra. 
The word 'upgrade' usually sounds like "more expensive" doesn't it? At Corporate Traveller, we hold ourselves to a different standard of service, where it feels like an upgrade to alternative solutions. We strive to provide an experience that feels effortless because everything works together seamlessly.  
Our service is not weighed down by heavy or hidden costs and we're totally committed to providing you next level service without straining your bottom-line!  
Looking for new ways to get your team motivated to travel again?  
4 ways to help your travellers get their mojo back.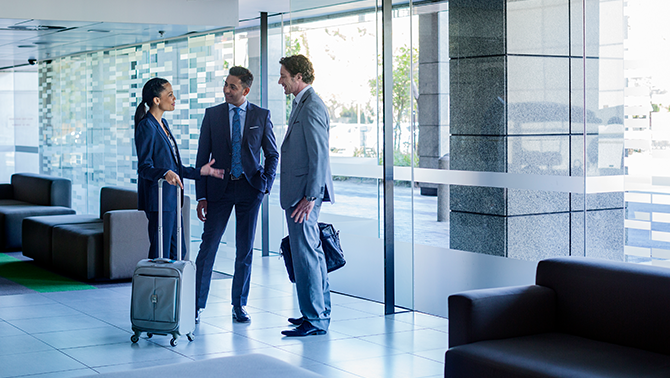 If the thought of a business trip is met with frowns rather than smiles, your team may have lost their mojo! There's good news, though! Just like how Stella got her groove back, your team can get their travel mojo back. Are you intrigued?  
3. We obsess over helping (SME) businesses succeed. 
Your work is important, and we want to take the pressure off so you can keep focused on that. Effortless travel allows you to put your energy into your own success, rather than worrying about the tiny details behind business trips. We help over 15,000 organizations globally and we're confident we know what support you need to thrive.  
Whether you're doing it yourself or working with a TMC that isn't quite hitting the mark, we know there's a better way. We believe there are three R's to effortless business travel and when you get each of them right, you can't help but win! 
The three Rs of effortless business travel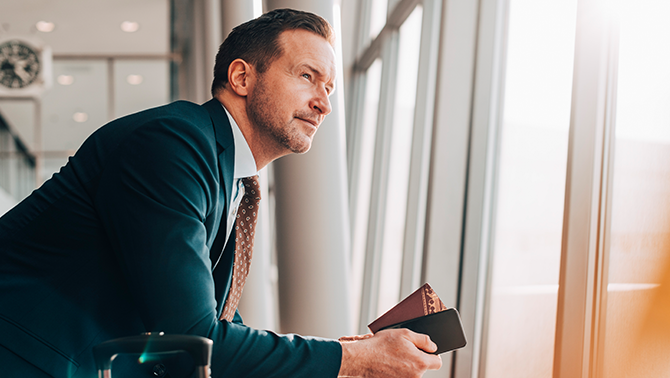 When you're looking into possible business travel companies to partner with, there are three important factors to consider to ensure an effortless business travel program. Readiness, Relevance, Relatability. Let's explore.
4. Stress-free business travel. We can't stress this enough!
Your life is already busy so why make it more complicated? If you don't have the time and space to anticipate issues before they arise and handle them at all hours of the day, you need proactive support that does. We can all agree, the priority is keeping your people safe and happy.  
When you work with us, we'll team you up with a dedicated travel consultant, a customer success manager, and an army of people behind the scenes to step in and support when needed. With travel this effortless, you can actually have the time and space to exhale. Ahhhh… 
10 business travel questions that are asked the most – a cheat sheet for travel bookers!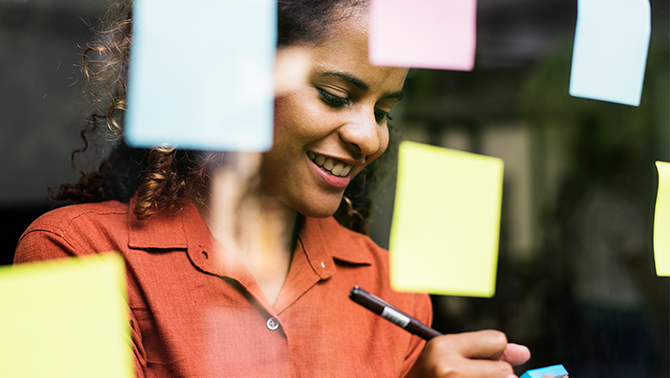 You probably hear the same questions on loop when you're managing your company's travel. Bookmark this cheat sheet for quick and easy answers to help your travellers (and some you wish you could give!)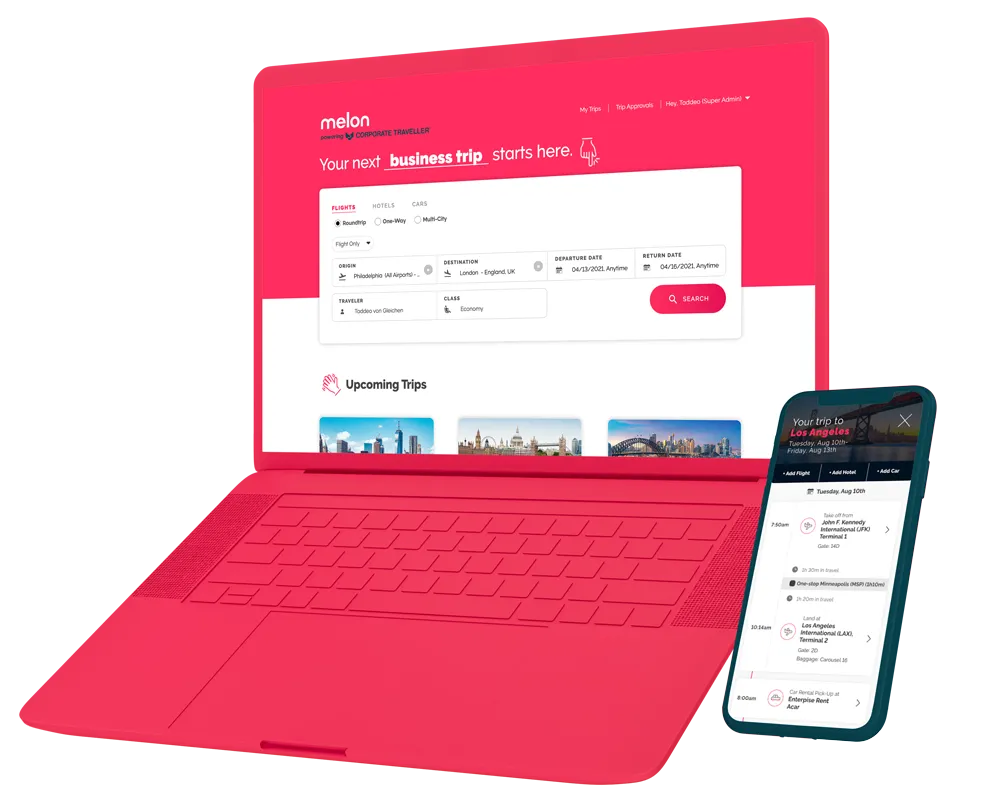 Unparalleled service
Personalized service begins when there is a real human to human connection, and the people providing that service really care about the customer's experience. They are committed to giving their all in every interaction and will all but move mountains to get the job done.  
But don't take it from us. Hear from a few of our clients who have had exceptional experiences since partnering with us. 
The modern world allows for plenty of online booking platforms and self-service options, but the value of personalized corporate travel management can't be overlooked. Although travel technology has no doubt made travel arrangements more accessible, the human touch offered by a real-life person who knows who you are and what you like, is irreplaceable. When you have complex itineraries, last-minute changes, or need to ensure specific preferences and requirements are met, it's especially important to have someone to call.   
Humans can provide a level of care and attention that algorithms and automated systems simply cannot replicate. The voice on the other line who listens and comprehends your needs. Our dedicated travel consultants and customer success teams take the time to understand the unique needs and preferences of each business and traveller, so that every aspect of the travel program is tailored to your specific requirements. 
From the onboarding process, to booking, on-trip support, 24/7 emergency assistance, and regular reporting and analysis, we'll cover all the bases. From door to door, we have people on hand to support with personalized recommendations to make your journey even more pleasant.  
People or technology? Choose both.
We love our people (and we'll always insist that they're the best in the biz)! However, we understand that some people simply want to book and manage their trips online. That's why we built Melon. As travellers ourselves, we know what it's like to travel and we've get what works and what doesn't. In other words, we know what effortless feels like. 
Self-serve bookers, rejoice! Booking with Melon is simple and speedy. In a matter of minutes, you'll have access to hundreds of airlines, hotels, and car hire companies. Travelling to remote locations or using a regional airline? No problem. We've got them in there too! 
With Melon, you'll also:  
Quickly access your favourite airlines, familiar hotels, and preferred flight times.
Keep track of traveller profiles, preferences, frequent flyer memberships, etc. 
Flag anything that is out of policy for quick & easy approvals.
Search, compare, book, and track trips in a singular place.
View up-to-date flight information, hotel and car hire details, and more. 
Your team will travel better, faster, happier, and safer with our travel tech on their side. Melon is a fantastic risk management tool that offers traveller tracking functionality to ensure traveller safety on the road. Plus, no matter where your traveller is in the world, they can chat to a travel expert in Melon Mobile, or connect via phone and email in just one click.  
Ready to see what Melon is capable of?  
 
Need help?
Hello, can I help you find what you're looking for?