Skip to main content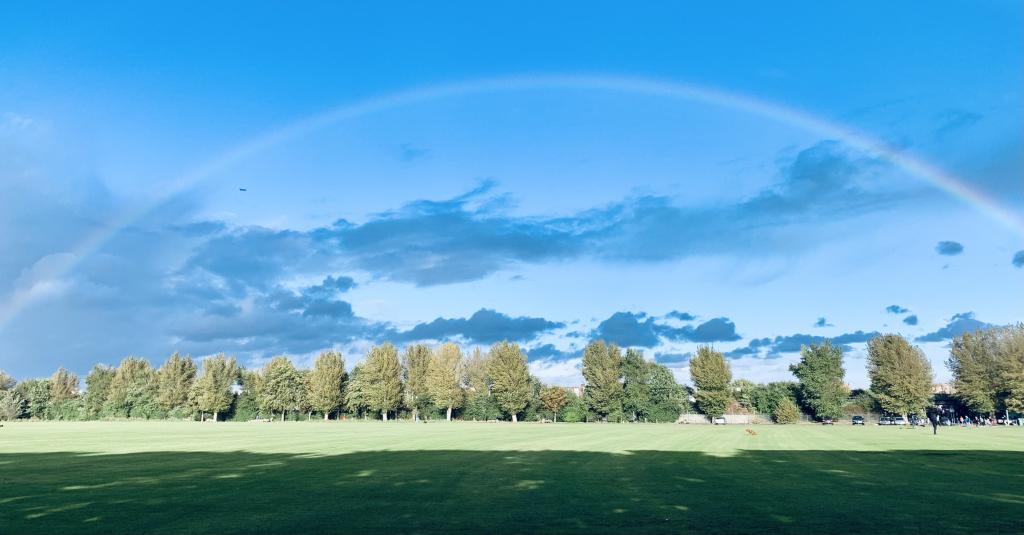 Rainbows ahead for travel
What it's like travelling from Canada to the UK
As our return to travel continues to accelerate, here are 11 things to consider for your next flight across the pond.  You'll want to read this account from our VP of Marketing, Carre Le Page, to see what travelling is really like. Spoiler alert: It's not that hard!
Travelling from Canada to the UK
First things first, a little context. The image above was taken on October 3rd in Wimbledon Park in South-West London.  To me, it was a symbolic representation that the return to travel is well underway. If you look closely in the upper left corner, you will see a British Airways aircraft about to cross through a rainbow, en route to London's Heathrow Airport. Planes were coming in every 3-4 minutes that day and, as someone who has worked in the travel industry for 16 years, it was wonderful to see!
I'm an Aussie who lives in Canada and was travelling internationally for the first time in 18 months. It was a blend of personal and business with a chance to finally meet my young nephew and also see so many Corporate Traveller colleagues that I have come to know only through Zoom, Teams, WhatsApp, phone and email. Now we can finally add 'face to face' to the mix!
Prior to COVID, I will admit that I took travel for granted. It was something I did about twice a month. I'd land in Boston or Toronto without much thought as to how fortunate I was to be able to travel so freely. I'd visit cities with appreciation, but not with a deep sense of gratitude and mindful awareness ….now that perspective has changed immensely. 
This time around, it was a trip of true appreciation and gratitude. Travel has literally changed the course of direction of my life and I am certain that I am not alone. Whether it's leisure, business or for those unexpected moments when life catches us off guard, travel empowers us and helps us grow. 
Here's are 11 things I'll share about this most recent trip experience.
What it's like flying from Canada to the UK these days
1 – It requires more planning to travel now. With tests and information changing all the time, you need to be on top of the latest info. It doesn't have to be incredibly difficult – you just need someone who knows what you need to do and can speak with confidence and authority. That's why I suggest you use a travel expert.
2 – It's still worth it! For starters, I got to see my brother and his family for the first time in years. However, the business aspect is also rewarding. Meeting with colleagues face to face was everything – ideas flowed more easily, laughter was natural, we could scribble ideas on a whiteboard and there was rosé at the end of the day. Not just that though….it was a chance to be in the air, switched off from WiFi and distractions that abound when on the ground.
3 – Testing. I flew to the UK before Oct 4 so I did need a test to arrive (that has since been removed so you do NOT need a test to go to the UK if you're vaxxed). However, you need to do a test on Day 2 when you land in the UK and you need to have that organized before you even depart Canada (it's a requirement for the Passenger Locator Form). Work out where you are staying and send your tests to the hotel/accommodation. Depending on your length of stay in the UK, you may need to get another test completed within 72 hours of your return flight (see point 8 below).
4 – Passenger Locator Form. This is a simple step and requires about 15 minutes. As mentioned above, you need a Day 2 test pre-arranged before you fill this in. You also need to know everywhere you're intending to stay whilst in the UK, plus your proposed Seat number on the flight, and a few more details like passport info etc.
5 – Don't forget to eat! In YVR, there was almost nothing open other than Duty Free and two fast food joints (Subway and A&W). The One World lounge was also closed so I went through security in the domestic terminal so that I could have a proper sit-down meal and then cross into the international departures (post-security). At Heathrow it was a completely different story though...so hopefully YVR opens up more options as more flights come back.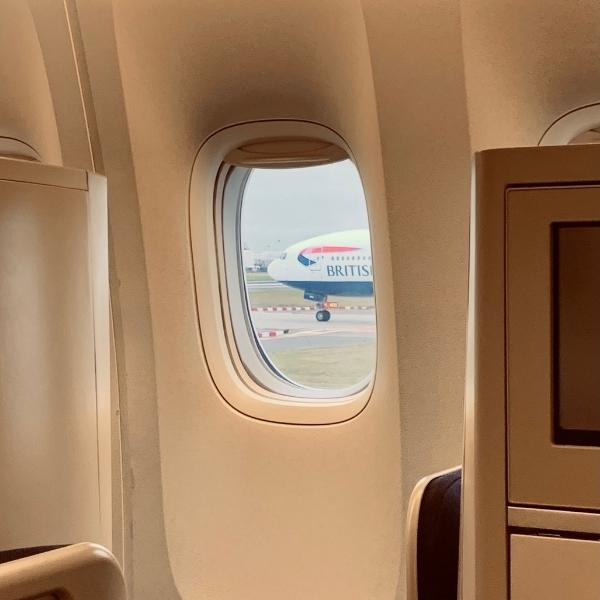 6 – British Airways is top-notch!
For my first flight in 18 months, it was refreshing to get back onboard an airplane with fantastic friendly service and plenty of comfort. I was lucky enough to be in BA's Club World for the flight and would highly recommend it for added comfort. A huge amount of room, a wide range of food and beverages served on board, the latest film releases, priority boarding (and de-planing), and plenty of friendly service.
Here is Club World at a glance:
A spacious seat, which converts into a fully flat bed
Delicious food and drink options using fresh, local ingredients
Stylish bedding and amenity kits designed by The White Company
Access to private lounges
Dedicated check-in desks and priority boarding
7 – Heathrow. What has been historically a painful experience, the new system at Heathrow was a breeze! I was mentally prepared for a long wait and extensive list of questions about my testing and general health from immigration, but there was none of that. I waited in line for less than 10 minutes, went through an automated Passport machine in a matter of seconds. I grabbed my bags and headed out.
8 – More about testing. Most tests are self-administered and you mail them in. Be mindful that Royal Mail (that's the fancy name for the UK postal service) does not deliver or receive on a Sunday so you may want to courier or hand-deliver yourself if you need to test on the weekend. I used ZoomDoc but there are plenty of others available. I was staying for 8 days so I needed a second test for my pre-departure return to Canada. You must ensure it's a PCR test for your return to Canada!
9 – London itself is OPEN! Pubs, The Tube, Shops, Museums, Attractions etc. Masks are encouraged (and expected in certain places) but the British don't seem to be eager to follow the rules. When on the London Underground, there are signs everywhere saying 'Masks Required' but my experience was about 50% of public were following the directions. 
10 – ArriveCan App. This was easy and a moment of pride for the Canadian Government to make it relatively painless. You just need to start the process within 72 hours of your proposed return flight departure. You need to know your travel info (departure times etc), your vaccination details (including the dates you were vaxxed), your PCR test result, your intended quarantine plan if you DO get COVID and a few more general questions. Took about 10 minutes.
11 – Home. At check-in at Heathrow, I needed to provide proof of vaccination and proof of negative test (plus my passport obviously). Then upon arrival back into YVR, I needed to show my ArriveCan receipt. Easy as that. They conduct tests randomly and for those who are unvaccinated but I was able to skip past the testing facility.
Want to stay up-to-date with the latest in travel? Sign up for our newsletter.