Skip to main content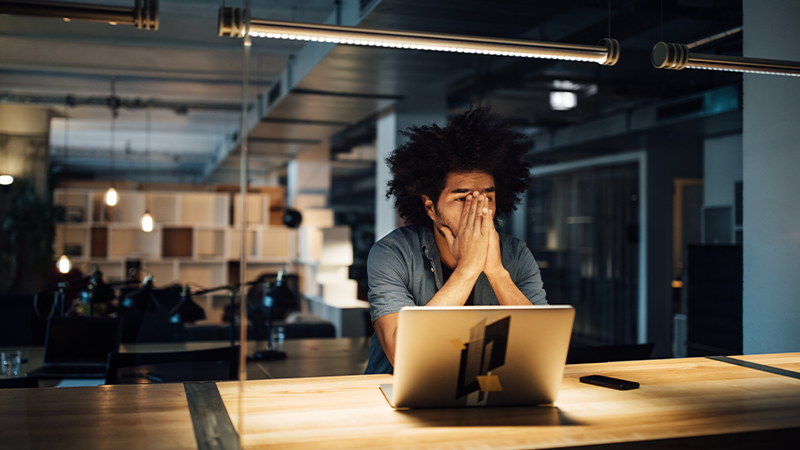 Eight ways DIY travel bookings are bad for business
If your travellers are managing their own business travel, booking and paying ad hoc over the internet, you must read this article.
Why? Because even if you have just one or two key people that travel for work – the time they spend coordinating travel is costing your business time, money and productivity.
Plus, DIY travel booking and management can hurt more than your bottom line as you'll read here ….
1. Time wasting costs you coin
When your key team members are searching and booking their own travel, you may as well be throwing your hard-earned cash out the door. When your team is booking travel randomly online and trying to manage things themselves, every minute and every dollar counts. In fact, our calculations indicate that a business that makes around 50 travel bookings per month is losing over $10,000 annually on wasted time by doing it themselves.
Instead, book your travel through a business travel provider and you'll save time and money on every booking. 
2. It's putting travellers at risk
When your travellers are booking trips however they wish, how do you know where they're travelling to, who they're booking with, how much they're spending and whether they're at risk? It's difficult to provide support for your travellers if you don't know where they are at any given time. If a severe weather event occurred – how would your business know which travellers were impacted? It all comes down to providing a level of care and safety for your travellers.
A business travel provider will show you how to gain visibility of your bookings and spend with the help of an online booking tool. When all bookings are made through a single platform, it's so much easier for you to report on your bookings, providing complete transparency into spend and activity.
3. Travel shouldn't stress anyone on your team out
Feel like your EA or your internal travel coordinator gets a little snippy sometimes? Duh… no wonder why! Booking and managing business travel for anyone, let alone a group of people, can be stressful. Generally, EAs or internal travel arrangers already have a full-time workload and then travel is thrown in on top of that. When you're booking travel for other people, there's a lot of back and forth with colleagues or managers, time spent on searching for options, making the booking, paying and then liaising with the traveller. Not to mention if there's a travel disruption in the middle of the night or flights get cancelled last minute on a Sunday, who's responsibility is it to manage this? No one wants to work weekends!
Partner with us and we manage all of this for you. Your own dedicated Travel Manager handles the overflow work, difficult requests and last-minute cancellations. Plus, your people have access to Corporate Traveller's Melon mobile travel app, which keeps travellers updated always. From travel disruptions and alerts to weather updates and info on the traveller's departure gate and more – this app is a must-have!
4. Who're you going to call when there's an emergency, Ghostbusters?
If you have a mobile workforce, you must have 24/7/365 global travel emergency assistance. This one's pretty important and pretty straightforward. DIY-travel leaves your people on their own when there is an emergency, but Corporate Traveller customers have access to in-house local and experienced travel support, no matter what time of day it is and where they're located. One click on our mobile app or a phone call and we're there for you.
5. Business productivity drops without the right technology and tools
When you go it alone managing business travel, your company is missing out on all the amazing tools and technology that have been specially designed to help businesses just like yours. Think mobile apps that are always on, so you don't have to be, online booking tools powered by AI that remember your preferences for fast bookings, tools to help you track where your travellers are, alert them of any incidents and then reporting tools which show you just how much your spending on travel.
The beauty of being with Corporate Traveller is you get to use our next-gen business travel platform - Melon. One simple platform that houses all the tools you need to make bookings, track and alert travellers and run reporting – a seamless experience on every device, mobile or desktop. Now we're talking!
6. You're missing out on exclusive deals, corporate rates and fares
One of the coolest things about having a dedicated travel manager is that your business is the first to know when industry deals or special industry airfares are released. Plus, because Corporate Traveller is part of the global travel company, Flight Centre Travel Group, your business has easy access to a global network of airfares, rates and ground transport options. We'll also show you how to leverage your room night volume or flights to secure specially negotiates rates or fares for domestic or international travel.  
7. Your payment processes are adding to your costs
One of the true advantages of booking with a specialist business travel provider is the advice they'll give you about payment methods. If your staff are paying for their own travel and then being reimbursed or you're using a few different credit cards to pay for travel – how much are you paying in credit card merchant fees each year? You'd be surprised how much these fees actually cost your business.
Book through Corporate Traveller and your business has access to a line of credit as part of an invoice account. This removes the need to pay any additional fees and frees up your cash flow. Boom. A cash saver right there!
8. With no travel policy, you're up a creek with no paddle
If you don't have rules or processes in place for your company's travel, your people will be left drowning in paperwork and emails and your budget easily blown. A travel policy puts a framework in place for what is and isn't permitted when it comes to travel. Plus, it also outlines what your team should do when there's a travel emergency. An easy-to-understand and succinct travel policy is one of the first things your business needs if you have even one person that travels.
A policy for travel is like pasta to Italians. Si?

Ready to begin?
Stop the dangers of DIY. Get in touch now to make better business decisions. 
If you're feeling like you need to chat with one of our business travel specialists ASAP, we don't blame you.
But we can help you quickly and easily!
Talk to us today.