Skip to main content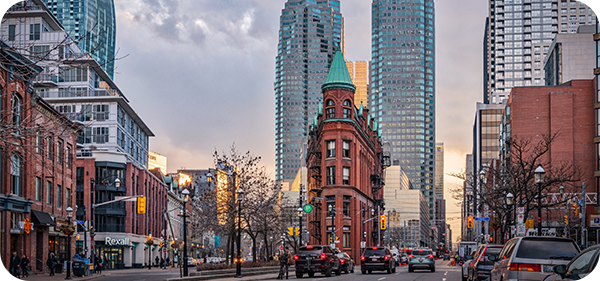 An Insider's Guide to the Best Business Travel Bars in Toronto
Looking for some delicious drinks on your next business trip?
Our travel experts have lined up a stellar cast of places for that perfect pour in Toronto, think of it as Corporate Traveller's business travel bar guide. We've got the inside scoop
Toronto
Toronto is a buzzing business hub, making it a likely spot for business travel. Bars are in no shortage either and travellers need not look further than their hotel lobby.
The Rooftop at the Broadview: The Broadview rooftop bar just went through a renovation – so it's a completely new product as of last week! What I love about the hotel is the staff, and food and options.  My favourite cocktail (if they haven't changed their menu) is the Peary Godmother and Dance Like Nobody's Watching.  The hotel plays ode to what it once was, Jilly's (a gentlemen's club), so they have brass rails and fun graffiti in the bathroom.  Their seared tuna and miso cod are TO DIE FOR.  But if you don't love fish, their fried eggplant and truffle fries are also really good!  Recommended by Adriana Angiulli, Travel Manager
The Clockwork bar at The Fairmont Royal York: The hotel has remodeled its lobby and added the Clockwork bar, it's something special! Recommended byJohn Beauvais, President, Corporate Brands, Americas
The Library Bar at the Fairmont Royal York in Toronto: Sit at the bar with Michael (Bartender). He's a great guy, has great stories and loves music – he makes strong cocktails and has good bar banter.  Recommended by Chris Shellard, Operations Leader
Falcon SkyBar at Hotel X:  I had a gorgeous glass of Cabernet Sauvignon while looking out at the beautiful views of downtown and Billy Bishop. At night or when the sun is setting, it's perfect!  Recommended by Kayla Jacobs, Travel Manager
The Bar at The Drake Hotel: The rooftop is beautiful, it's very nice and intimate, each level is different which is quite cool. Float like a butterfly and pretty like a penny are both delicious cocktails.  Recommended by Sarah Nugent, Business Development Manager
Louix Louis at The St Regis Hotel Recommended by Marcus Johnstone-McKinney, Product Marketing Specialist in Leisure Marketing
The Lobby Piano Bar at the Shangri-La Toronto Recommended by Michelle Rose, Social Media Specialist for FCTG
Happy hour should be 24/7. Let us book your next business trip, so you can sit back and relax.