Skip to main content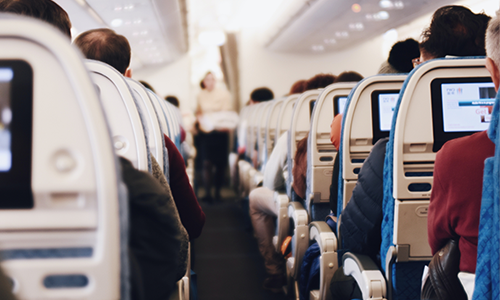 PRESS RELEASE
Flight Centre's Corporate Division predicts swing to profit by Spring 2022 as the world reopens to business travellers

.
Optimistic outlook driven by pent-up demand, growing momentum and adaption to the new norm.
24 February, 2022 – Just a few months into 2022, Flight Centre Travel Group's (FLT) global corporate business – one of the world's largest corporate travel managers – is reporting a positive trajectory that will likely see a return to profitability as early as March-April.
In a statement to the Australian Securities Exchange today, the Group's corporate business collectively rose more than 50% above January levels at February mid-month. The company also revealed an escalation in activity in February as the world rebounded after Omicron.
These positive improvements were seen across all regions, and followed almost 150% total transaction value (TTV) growth in FY22 first half (1H) to AU$2.04b compared to the previous corresponding period (PCP).
With category-leading global brands offering travel management solutions to a client base spanning SME and mid-sized companies through Corporate Traveller to larger, often multi-national corporations serviced by FCM, FLT's corporate business contributed about 60% of 1H sales.
"We are encouraged to see recovery across the global corporate sector shifting upwards, with client demand and bookings emphatically on the rise as more countries open their borders to international travellers once again," said Chris Galanty, Global CEO of Flight Centre Corporate. "The improved performance of our FCM and Corporate Traveller businesses is indicative of renewed confidence in our reinvigorated products and services, and testament to the incredible resilience of our clients who are looking to make up for lost time and reconnect in real-life for successful business development in 2022."
Looking ahead, while average spend is unlikely to return fully in the near-term, the company believes that the global rebound will gather pace throughout 2022 and bullishly predicts its corporate TTV can now pass peak FY19 (monthly) levels during the FY23, assuming market conditions improve. Average client spend (market recovery) is expected to reach 60-75% of traditional levels as restrictions ease and as a result of pent-up demand for face-to-face meetings; as well as material TTV flowing through from the large pipeline of accounts won during the past two years.
"While there may be further challenges to overcome, our investment, preparation and commitment means that we are primed and well placed for recovery. I am optimistic about the corporate business and its future, and look forward to when the impact from COVID on travel has disappeared," added Galanty.
The company credits decisive government action to ease or remove travel and testing requirements alongside the restoration of vital international air routes as key enablers and accelerators driving business travel growth. When combined with virtual meetings fatigue and the pent-up desire to resume face to face connections, are all contributing factors fuelling current demand.
Geographically, the EMEA and Americas businesses, which collectively generated 50% of 1H TTV and more than tripled sales during the period, are again leading the recovery with corporate TTV in these regions tracking 90% and 55% respectively above January levels.
A leader in the tech travel space
Galanty believes the company has been able to spearhead recovery and growth due to a continued focus on innovation and game-changing technology.
"We are proud of our reputation as a leader in the tech travel space, borne through a strategy of continuous development and complementary acquisitions. By providing our clients with powerful and intelligent tools, we are able to fully support their travel program aims in a post-COVID world as we forge a path back to business travel in the year ahead," said Galanty.
The company has addressed this through the development of a duo of proprietary platforms for both Corporate Traveller and FCM. Rolling out globally in 2022, they will offer a raft of industry-first features in their respective segments that addresses pain points, provides exceptional flexibility and personalization, while vastly improving the user experience. These platforms will also leverage the recent investments made by FLT to introduce new platform components to improve customer experience and capabilities.
Changing priorities for new and existing corporate clients
In this evolving travel climate, customer requirements and market dynamics are creating opportunities for us to develop our services and programs for existing and new customers.  
Corporate account wins since the end of the FY20 1H have now reached $4.5b in annual pre-COVID spend which would represent circa 50% growth on the global corporate business's $8.9b FY19 result if all clients were retained and were trading at previous levels.
Furthermore, 12 of the company's 20 largest clients globally have now been secured during the pandemic, enhancing what was an already a diverse client book with several multi-national, household brands alongside major government accounts in France, Singapore and the United Kingdom – the UK government is now one of the company's largest clients in the country. The business is consistently gaining market-share across its key regions, while preparing for post-pandemic recovery.
In terms of customer needs, safety worries are likely to lead to reduced leakage, higher adoption of managed travel programs and a shift away from supplier direct offerings. While some legacy TMCs are struggling to respond to client concerns, Corporate Traveller and FCM have both reinvigorated their duty of care capabilities to provide a sophisticated ecosystem of communications to inform, support and safeguard clients before and during travel. The company is seeing a growing number of independently minded business travellers switch back to managed travel programme. So, the appeal of Corporate Traveller and FCM's advanced technologies, combined with the services of a dedicated team of travel consultants 24/7/365, are indicative of business travel priorities resonating with clients in the pandemic era.
A further positive consequence of the COVID-led hiatus on travel has also been the elevated focus on sustainable travel from clients, with both corporate brands incorporating solutions into their platform and service offerings that contribute to positive action and sustainability goals.  
There is no doubt that the pandemic has changed the travel experience and presented new challenges, complications and requirements for business travellers. However, thanks to the actions we have taken, we are fully prepared to support our clients and their return to travel in a meaningful way, concluded Galanty.
For full details of the Flight Centre Travel Group's 2022 fiscal year first half accounts, view via the following link.
Final note
Flight Centre Travel Group follows the Australian financial year (also known as a tax year or a fiscal year) which runs from 1 July-30 June each year.