Skip to main content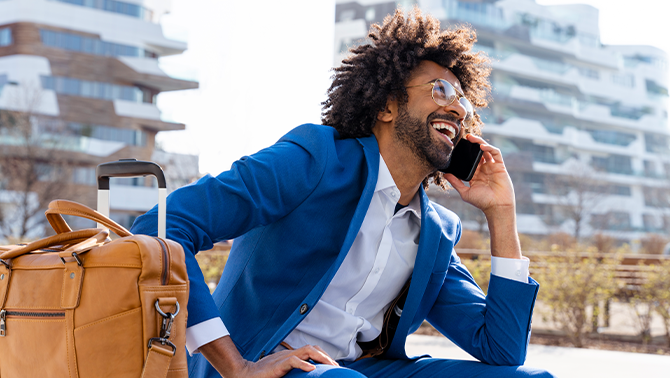 How to make your life easier by calling in the travel experts 
If we can lighten your load, we will.
Life is hard enough. There's no need to make it even more difficult. We're the first to admit that it's been a turbulent few years, bumpy and uncertain. The captain needs to switch off the seatbelt sign and let us move about the cabin!
In fact, why not treat ourselves with a little upgrade to business class while we're at it? We deserve to put our feet up, order some champagne and settle into a good movie. 
The experts who make travel a breeze.  
The challenge that most travel bookers have is finding the balance between what is good for the business and also works for travellers. How do you find a positive middle-ground that satisfies both parties?  
Our approach to business travel has always been to deliver service and savings. There's an art to keeping travelers happy by ensuring they experience top-notch expertise and service and delivering savings to those who look closely at the bottom line. We've been doing this for years and we now help over 15,000 companies globally effectively manage travel with our dedicated travel experts. 
"With you guys, it's a complete package - you take out the stressful part of organizing travel and getting us where we need to be and I feel very at ease if something difficult arises during the trip, knowing I can get a response and its personal. In a stressful travel environment, you make it stress-free." - Bob Forest, Managing Partner, Adrian Smith + Gordon Gill Architecture   
Here's are 10 ways we do it: 
1) We are a one-stop-shop! We provide a dedicated travel consultant who will be your primary contact for all your needs. 
2) We have a 3-ring policy when it comes to phone calls 
3) 24/7 emergency support (in-house, with real people) 
4) Support building and implementing a travel policy 
5) Access to experts who have worked in travel for years! (Seriously, our average tenure is 9 years in travel) 
6) Options for your travellers to book however they wish 
7) An uncomplicated fee schedule 
8) Comprehensive risk management to protect your travellers while they're on the road 
9) Great reporting to see where your dollars are being spent 
10) Sustainable travel options and guidance 
To sum up the above, we make sure that your travellers and your management teams are both happy. That makes your life easier…and Pro tip: It actually saves your company money.  
There are great things ahead if you choose. You've earned it. 
PS....we only included 10 ways we make life easier, but the truth is that we have plenty of other travel hacks up our sleeves. Just ask!
Ready to get make your life easier?
We're ready to help! Drop us a line so we can start getting you on the right track ASAP.