Skip to main content
Expert Travel Tips from Our Travel Experts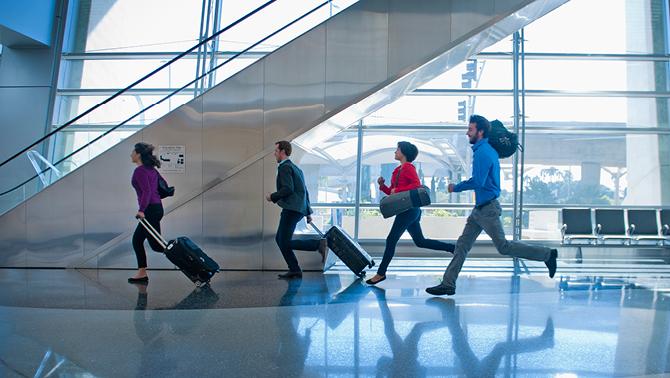 Expert Travel Tips from Our Travel Experts
There's no doubt that travel has bounced back with a vengeance. Airports are crowded and lines are long, baggage is being lost, and industry-wide businesses are feeling the pains of staffing shortages. Though we're all feeling it, there are some things we can all do to make it a little less painful, and to make our journey just a little simpler.
Our travel experts are also expert travellers. So, after returning from a recent company celebration in Las Vegas that saw travellers flying in from Canada, USA, UK, Australia, New Zealand, and South Africa, our team pooled together their top tips for a successful trip.
Tips for the Airport:
Wherever possible try to only carry-on luggage. Saves you time when arriving to the airport, saves time when arriving because you won't have to wait at baggage claim, and prevents your bags from being lost.

Have your small liquids in a clear bag and in an easily accessible place so you can quickly take them out at security.

Some airports offer live wait times at security online – make sure to check a few hours before you have to leave.

For citizens or permanent residents of Canada or the US, or Mexican nationals (must also be a member of Viajero Confiable), apply for Nexus as soon as possible – it'll take a while to get approved, but it will save hours in the long run. Check your eligibility.
For US Citizens and legal permanent residents, invest in Clear for US travel as it will get you to the front of TSA pre-check.
For US - travelling internationally? Invest in Global Entry which also gets you TSA pre-check. Check your eligibility.

Shoes and socks always. You never want to be stuck walking barefoot through security.

Bring snacks (or buy in the terminal) and an empty water bottle with you to the airport just in case you get stuck on the plane or catering is having issues.

For international flights, arrive to the airport at least 3 hours ahead of when your flight leaves.

For domestic flights, arrive at least 2 hours ahead of when your flight leaves.

Heathrow specific: a business ticket on the Heathrow Express (about £10 more) gets you a fast track through security.
The "Good to know" tips:
If checking a bag, put an Apple AirTag inside your checked bag. It will not only tell you if your bag made it before you hit the baggage claim but also where it might have been left behind.

For long haul flights, try and get on local time as quick as you can. Your jetlag will thank you.

Travelling home on Sunday from a leisure trip? Bring your work laptop in case of cancellation.

Choose a special dietary requirements meal for the plane so you get your food first.

Noise cancelling headphones so you can sit peacefully.

Have Spotify? Download your playlists or podcasts so you won't have to rely on the inconsistent plane wi-fi.

Many major streaming services will allow you to download movies and TV shows so you can access them offline.

Download the airline's app for real-time updates.

Have a small, portable charger with you in case the airport/airplane plugs aren't working or are all taken.

Have two sets of headphones – one wireless and one wired for when the others die.

Make sure all passports/travel documents are valid. If they aren't valid, apply right away but don't book any travel for at least 3 months.

Always check COVID restrictions 72 hours before your trip in case there are updates/changes.

If you're travelling internationally, bring paper copies of all your documents. You never know when a clerical error will strike or if your personal items will get lost or stolen.
We hope these tips help to make your trip as pain-free as possible! Have any tips that you think we could add to our list? Let us know on our social channels. You can find us on Facebook, Instagram, Twitter, or LinkedIn.
Need some extra support for your business travel? We've got you. Get in touch!