Skip to main content

Crisis management: Who to call when crisis hits
Between floods, wildfires, earthquakes, and hotter-than-ever heat waves, it all leads to a perfect storm of interruptions for business travel. As business travellers get back out there in higher than pre-COVID numbers, the disruptions are plenty, and it's crucial to have a game plan when things take an unexpected turn. So, who are you gonna call? Let's break it down.
Younger travellers' have rising concerns
According to a recent study by Business Travel News Europe, UK-based business travellers under the age of 34 are showing increasing concern about the risks associated with business trips. It could be an after-effect of COVID, and travel being a new part of their job, or it could simply be travel inexperience.
The study revealed that younger travellers faced a 79% greater concern of having to isolate with COVID while overseas. It also showed that 77% feared geo-political threats (war or terrorist attacks) and 72% of being stuck in a natural disaster.
So, how do you ease your travellers' minds?
Tip #1: Build the "what-ifs" into your travel policy
While natural disasters and pandemics may not have been top-of-mind in previous years, it is nearly impossible to avoid today. Duty of care is a priority for all businesses, so analyzing your most visited destinations and potential threats is an excellent way to anticipate what-ifs.
As part of your crisis management plan, determine if your frequently visited locations are susceptible to:
Political unrest

Economic instability

Environmental disasters (earthquakes, heavy rain/monsoons/typhoons, hurricanes, heat waves, wildfires, etc.)

Potential discrimination risks
The above is not an exhaustive list; however, considering all the potential risks is crucial. You can create a section in your travel policy that covers "What to do when…" and includes who to contact and how.
Make sure that this information is circulated to your team often in whichever method of communication works best for them. You can include it in their travel documents, by text, email, a visual document, etc.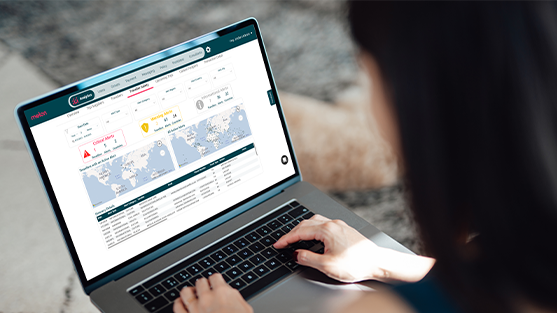 Tip #2: Get to know Melon, your traveler safety BFF
Before you or your travellers jet off, make sure everyone feels prepared. The Washington Post Travel section recommends checking for potential natural disasters or crises in your destination. Websites like the National Weather Service can be your trusty sidekick.
Or, your company could be using Melon! Our travel platform, Melon, has traveler safety capabilities built in. Powered by Crisis 24, the Travel Safety dashboard breaks down:
Destination alerts: Critical Alerts, Warning Alerts, and Informational Alerts

A map of travellers with an active alert

A map of all active alerts

Traveller itinerary details with a breakdown of who is travelling, the alert type, alert category (entry/exit, flood, wildfire, etc.), and how to contact them.
Plus, Melon has its very own mobile app that allows users to receive real-time alerts for disruptions or delays and gives travelers an easy way to contact an actual human (and travel expert) via live chat 24/7. If they're ever in a jam, rest assured there's help at hand.
Tip #3: Stay connected – Dedicated service for the win.
Remember the adage: "It's not what you know, but who you know"? Well, in a crisis, both matter! The best way to do so is to save emergency contacts on your phone. Your travel management company, the local embassy or consulate, and any reliable local connections should be at the top of the list.
If you're travelling to a new destination that your company hasn't already visited, reach out to your dedicated travel consultant. They'll help you to help navigate the best ways to gather this information, as well as any other destination info that could be helpful to you or the traveller.
Plus, with always-on emergency response support, you'll have a proactive team that anticipates your needs no matter where you are in the world. And, if you're stuck, you can always talk to a human with Corporate Traveller. 24/7. Anywhere, from any device.
Tip #4: Document everything – Have a trail of evidence
In a crisis, paper trails are gold. Keep records of your travel itinerary, receipts, and communications with your TMC. It's your insurance policy for any unforeseen hiccups, and helpful should you need to file an insurance claim. Keeping organized from the get-go will save you a headache when you're in the heat of the moment.
Ensure that your travelers have access to the company travel insurance policy numbers and contact numbers, understand the procedures of filing claims, who is responsible for notifying the insurance company, etc.
Smoother business travels start with better preparation
Remember that a bit of preparation goes a long way as you or your travellers embark on upcoming business trips. Stay informed, stay connected, and know what tools are there to support you. If you ever find yourself in a bind, remember: you're not alone! Reach for your phone, open the Melon app, and support is there.
So, pack your bags, grab your phone, and confidently hit the road. 
Want to chat more about traveller safety?
We're here for you anytime, anywhere