Skip to main content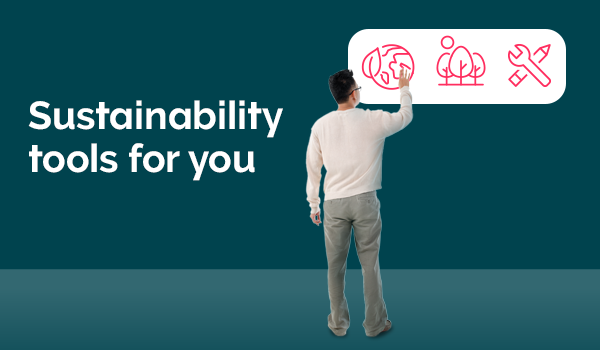 Tools to dial up your sustainability
As part of our commitment to sustainability, we're working to help our travelling customers understand what sustainable travel looks like and to encourage options that work for both the planet and people. We're making it easier to track your travel, understand the more responsible options out there, and build your sustainability policies as part of your travel policy. 
We're helping UK companies make it count.
Technology is always changing, always evolving, and continuously driving new information. The old adage that knowledge is power is only half true, because we believe that knowledge is potential power. Even if you have the information at hand, it's really about how you use that information to drive results. We want you to be able to get the information you need easily, when you need it. Whether it's tracking your emissions, picking greener hotels, or knowing which routes result in less CO2 emissions, we want to make it easy for you to find the answers, and understand what to do with that information. 
The Global Business Travel Association (GBTA) recently published a State of Sustainability Report for 2022. The report asked corporate travel buyers, travel suppliers, and external stakeholders (policy makers, think tanks, NGOs, etc) a series of questions about sustainability, roadblocks, and the way forward. 
Interestingly, those who are responsible for managing and arranging travel expressed the main obstacles in transitioning to more sustainable business travel as higher cost (82%) and lack of data and access to transparent information (63%). So, the two biggest hurdles right now are cost and information, which means our biggest challenge is to help business find ways to overcome those roadblocks.
We're gearing up for the challenge
As an industry there is a lot of work to do, and even though there's a lot already being done, there needs to be more of it! Sustainable fuels, waste reduction, innovative tech, cleaner aircraft, better options in rail, and so much more. If everyone gets on the same page, these things will become common practice. In turn, they'll become more affordable and more accessible. 
Want choice? We always want to provide it. We pride ourselves on being able to offer you a great deal of choice, including how you travel and who you choose to travel with. So, want to work with partners that care as much about sustainability as we do? Here are just a couple of great initiatives underway with some of our partners.
British Airways and their parent company IAG

have committed to a number of initiatives in making SAF more accessible, and setting a goal of fueling 10% of all flights by 2030.

Air Canada's Leave Less and Do More Initiative is a commitment to a net-zero emissions goal from all of their global operations by 2050. This includes a net-zero GHG (greenhouse gas) commitment by 2050, plans to reduce waste across their air and ground operations, $50M invested in SAFs, and a sustainable travel offering for their business clients. 

American Airlines introduced their

Destination Net Zero

initiative with a goal to reach net zero

air

emissions by 2050. This includes investing more than $24 billion into 600 new, more fuel-efficient aircraft, replacing 10% of their jet fuel with SAFs by 2030, and more. 

Air New Zealand joined the

Target True Zero coalition

, with the goal to have 30% of their new acquisition aircraft utilising electric, hybrid, or hydrogen tech from 2030 on routes under 750km.

The Qantas Group pledged a 25% reduction in net emissions along with 10% SAF in fuel mix by

by 2030. This is in addition to a

number of other targets

they are working toward.
Time to put the boots on.
Sustainable travel is not a quick fix - it's a journey and it requires commitment. We openly admit that we don't have all of the answers, but we've certainly begun the journey. For us, aside from forging our own sustainability path, we are also developing tools to help our clients forge theirs. Some of the tech tools you can expect, so far:
CO2 emissions highlighted throughout booking flow

Offsetting reporting and options

CO2 reporting

Approval process to flag anything outside of policy
Want to make your travel programme more sustainable? See how Melon can make it happen.
Let's chat sustainability.
Find out how our tools and team can help you impact your business goals.

You may also be interested in...