Skip to main content
Sustainable business travel starts right here.
There's no time like the present to start making a difference – and no better partner to help you get there. With Corporate Traveller, you can trust our expert team and tools to get you and your business from A to B without costing the earth. Make your business travel count towards your sustainability efforts with our range of resources to help you shape, measure, offset and transform your business travel policy.

Transform
Shape your travel programme.
Create a more economical travel policy for your business with our Customer Success Managers. They're here to guide you on best practice and help you identify lower carbon travel options within the Melon booking tool. Whether you're refreshing your policy or are looking for ongoing, ad-hoc support, we've got real people on hand to deliver expert advice. 

Measure
Calculate your CO2 impact.
From departure to arrival and everything in between, Melon will calculate the end-to-end carbon impact of your journey in real time. Pinpoint areas where emissions could be reduced by filtering for travel options with a smaller footprint to suit your company's travel policy. Get more visibility and more control over your bookings with Melon.  

Balance
Offset your emissions.
Connect your business travel to global tree planting sites through our partnership with Trees4Travel. By offsetting your emissions, you can help plant trees and compensate for the impact of your travel on the environment. Your Customer Success Manager can help you select the best option to balance your company's carbon footprint.  

Report
Track your impact
Get access to personalised CO2 emissions reports that measure the impact of your business travels in real time. Our reporting dashboard can help you make informed choices for any journey with on-demand tracking, no matter your mode of transport.  
Technology to track your impact  
Manage your entire travel programme from anywhere, any time, on our digital booking platform, Melon.
Our corporate travel technology will allow you to manage your travel sustainability on one simple platform.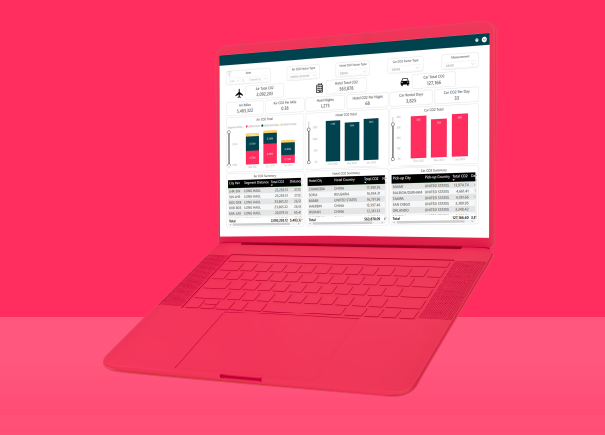 Calculate your CO2 impact  
Having transparency of your CO2 output is a crucial factor in developing your sustainable travel programme.
With our carbon calculator, you'll be able to measure and track the impact of your business travels – enabling you to work progressively towards your goals in real time.
Get more visibility over your CO2 impact with Corporate Traveller.
How we're helping companies travel sustainably...
At Baringa we have high sustainability ambitions, particularly in reducing our carbon footprint. One of our key ways to achieve this is to have a better handle on our business travel. Corporate Traveller allows us to encourage employees to pick better travel methods, as well as measure with extreme precision the carbon impact of our travel. Corporate Traveller has set up monthly meetings with us. And we can see 'live' how our employees travel through a useful dashboard. Through this data we hope to influence our employees to travel in financial and energy efficient ways

You may also be interested in...