Skip to main content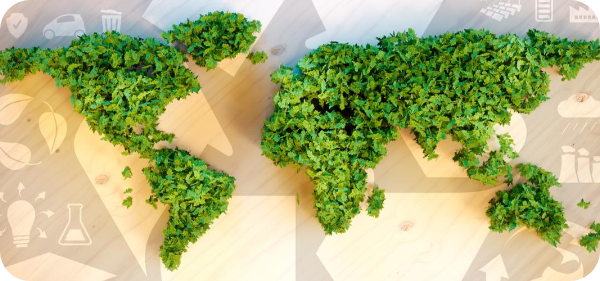 Let's talk responsible travel
To us, responsible travel isn't a catchphrase or passing trend. It's our way of doing business.
The idea is to build brighter futures through sustainable practices. We dedicate time and resources to smart energy consumption, recycling and waste reduction, and offsetting our carbon footprint. At the grassroots level, we encourage a strong commuting culture of cycling, running and ride-sharing to the office. Together, these practices create a solid framework for our overall environmental responsibility.
Responsible travel has its obligations. Here are ours.
Less waste
We have waged a War on Waste. This all-encompassing effort includes everything from saying no to plastic and using 'keep cups' to reducing packaging, printing only when necessary on recycled, unbleached paper and maintaining an active e-waste practice that recycles old computers and mobile phones.
Through changes big and small, our Global Head Office in Brisbane, Australia has received a 5-Star Green Rating. That office has now become the perfect prototype. We're using the same Environmentally Sustainable Design model we used in Brisbane to boost the sustainability factor of our shop and office designs around the world.
Global respect
We know we're lucky - we get to enjoy the privilege of global travel. We don't take that privilege lightly. Being global citizens, we respect the countries we visit and send others to, using our good fortune to help wherever we can. 
Our most recent initiative is with SolarBuddy. These guys put all their time and resources into fighting energy poverty which impacts 1.4 billion people globally. That means that over a billion people in the countries we visit spend dusk to dawn in complete darkness with no access to any form of electricity. To help aid the cause, we assemble solar-powered lights during our local and global gatherings to distribute to those in need. A portion of every sale we make goes directly to the purchase of these life-improving LED lights, which in turn light up global communities.
Local love
We love partnering with local travel companies and suppliers. Not only does it help the economy, but it also gives our travellers first-hand knowledge and experience from a local's point of view. From using guides who live in the community to skipping the chain restaurants and suggesting locally owned eateries, we strive to support the communities we visit while delivering an authentic cultural experience to our travellers.
Doing it for the animals
We work alongside environmental giants like the David Suzuki Foundation to conserve and protect the natural environment. Our annual charity trip to Thailand raised $30,000 for Friends of the Asian Elephant. It gave us first-hand insights into responsible travel practices concerning animal welfare. 
In the leisure side of Flight Centre, we make sure that the only animal attractions we sell and promote are safe, healthy, and natural for both the animals and travellers. That means no animal performances, no riding experiences, and no getting too close in the wild.
Clean water, healthy habitats
Fresh water isn't a limitless resource. Climate change poses massive risks and the increase in devastating storms and fires is a clear and present danger.  
Through our Hurricane Relief efforts in 2018, we raised $20,000 for Red Cross to help countries affected by Hurricane Irma in Puerto Rico, Florida, Saint Martin, and elsewhere. In Guatemala, our work with Project Somos helped an eco-sustainable community for at-risk mothers and children, building sufficient infrastructure which supports clean water.
Making travel greener
Our goal is to support the environmentally aware side of travel that conserves, protects, and respects local environments, communities, cultures, and wildlife. Our global giving footprint has grown more than 20% annually for the past three years. By donating millions of dollars every year to local charities around the world, we give back to all the places that welcome us and our travellers.
Every time you book with us, you're helping us support greener, safer, and more respectful travel.
Ready to save time, money, and the environment through your travel programme?
Let's get started.