Skip to main content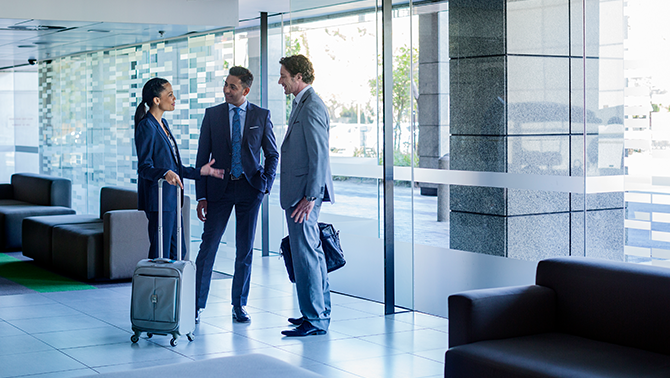 4 ways to motivate your travellers and get their mojo back
When choosing a corporate travel agency, it's easy to compare the technology and overall product offering, but what about service? It's clear that people are missing out on the personal touch and attention to detail. And 84% of our prospective clients mention that service is lacking in their current programme.   
That's not at all how travel should feel; you need great travel support that is uplifting and runs seamlessly in the background. That way, you can get on with the stuff that matters.   
So, what better time than to introduce you to some of the key players working tirelessly behind the scenes.   
1. Work with a travel management company (TMC) that wants you to succeed
To set your team up for the best possible experience on the road, you need to start with a map to success before they even leave the office. The starting point is the people who'll be booking and supporting your travellers.  
If you've been doing it on your own, it might be time to think about working with travel experts who know (and love) travel. Planning travel should feel easy-breezy. Your travel requests and arrangements should be handled quickly and efficiently. Plus, your teams should have plenty of options for airlines and accommodation with added perks that make them actually look forward to the trip.  
When selecting the right travel management partner, you might need to do a little homework. Look for a provider with tons of experience in the travel industry, who also has a great track record with other clients in your specific industry. Your most successful travel partner is one who is just as invested in your success as you are.  
2. Don't underestimate the value of a great travel policy
A travel policy is the ultimate guide for your travellers to follow from the time of booking to the time of their return. Building a travel policy for your organisation might seem overwhelming, but let's put your mind at ease. Rather than hastily coming up with something that may not cover all scenarios, take into consideration that your policy is not only a rule book. It's a tool to guide your team in making sound decisions regarding your corporate travel programme and help avoid future problems. 
Having a comprehensive company travel policy helps protect both travellers and organisations. It should cover everything from acceptable expenses to guidelines around what is ok to book. You can even set policies around advance notice for booking flights or hotels, if necessary. A great travel policy is all about making sure that everyone knows what is ok to book, and how to book.  
Once your policy is locked in (and communicated), make sure each traveller has the necessary support for each trip. This starts with the booking process (whether it's a real-life travel expert or some cutting-edge tech) but also extends into their travels. Employees should feel that the trip has been arranged specifically for their exact needs. Plus, they should have access to 24/7 customer support lines or emergency contact information in case of any problems along the way.  
3. Make travel planning simple with the latest travel technology
Not everyone wants to use a real-life human being for every booking, so a seamless self-serve online booking tool is essential. If a simple point-to-point flight takes more than 5 minutes to book, it's costing you money. And for the bookings that aren't that simple, you need an intuitive tech platform that can help guide the process.  
Melon offers personalised options that are set by your team through the onboarding experience. Plus, each traveller or travel arranger can personalise their profile so Melon remembers them for next time. Your travel technology should serve up specific hotel options that are part of your company's travel programme - ensuring that you're getting the best rate and reaping the rewards (like free breakfast or early check-in). We can help negotiate those sweet corporate rates on your favourite hotels, too! 
4. Give your team personalised and dedicated service 
If something goes awry while your team is on the road, you need to know that someone is behind the scenes working on the solution. The advantages of tailored and specialised service for business travel are undeniable.  
With a dedicated travel consultant to oversee all arrangements, businesses can make sure their travellers have the support they need from door to door. This makes it simpler to navigate any unforeseen issues or changes, and reduces stress related to business trip hiccups.  
All travel is personal, even when it is for work and it should never feel like a chore. Instead, let's make sure it's uplifting and effortless. Because when your team arrives rested and ready to roll, that's when the magic happens.  
You may also be interested in... 
Ready to see some travel magic?
Let's chat.