Skip to main content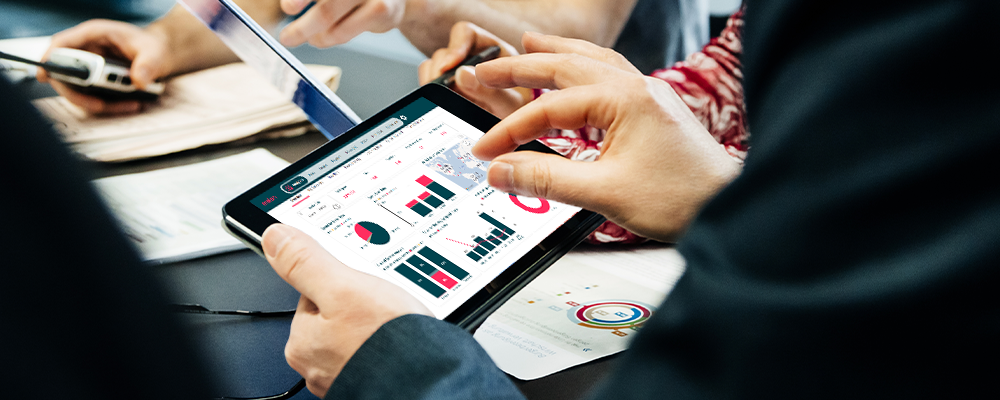 One dashboard, a world of business travel reporting 
Imagine having all your travel data neatly organised on a single dashboard. That's right – one dashboard. No more sifting through countless spreadsheets or logging into different platforms to piece together the puzzle.  
One dashboard for all your business travel reporting needs 
Your travel programme looks blurry when you're looking for your travel data among different sources. This is where consolidating your travel data with a single travel management company proves its worth: 
Centralised data management: The sheer volume of travel data can be overwhelming to say the least. You can spot trends and opportunities to cut travel costs and enhance your travel programme with the right tools. 
Leveraging the right tools: TMCs offer a range of tools for various aspects of travel management. With a TMC, you can consolidate the tools you need for reporting and quickly view everything from travel expenses to carbon emissions tracking. 
Nothing gets passed you: A common challenge companies face with their travel programmes is booking leakage, where employees make bookings outside the approved channels. With consolidated travel data, you can more effectively identify and target booking, supplier, or channel leakage.  
Understanding business travel reports 
Travel reporting is not a one-size-fits-all endeavor. Reports come in various forms, each ready to help you level up your business travel programme. Some common report types include, but are far from limited to:  
Travel and expense reporting: These reports show you where exactly the money you spend on travel is going. You'll quickly identify areas where you can save money and make informed budgeting decisions that will affect future business trips. 
Compliance reporting: Ensuring that your employees adhere to corporate travel policies is one of the first steps toward helping you save. These reports help identify deviations from established policies by monitoring travel activities and expenses. 
Carbon reporting: We live in an era in which businesses must have an eye on sustainability. This type of business travel report allows you to track your travel programme's carbon footprint and environmental efforts. 
Regardless of the corporate travel report type, a travel management tool simplifies the reporting process and contributes to a healthier travel programme. 
The power of consolidation: 5 benefits to one dashboard
1. Data = Visibility 
One significant challenge in travel management? Booking leakage. How do you know where your budget is spent when you have wastage in your travel programme and limited visibility? 
Data is the cornerstone of effective decision-making. You need data to understand what has been spent, where, and most importantly, what employees achieve as a result of that travel spend.  
A corporate travel management platform, like Melon, becomes a window into your corporate travel programme's performance. 
It allows you to position your organisation to better target booking, supplier, or channel leakage. Plus, by having all your travel data in one place, you'll have a clearer understanding of your spending patterns, and be able to identify areas for improvement and cost reduction. 
2. Benchmarking for success 
Without goals, your business won't grow. But without a way to measure that progress, how can you be sure your business is growing at all? 
By consolidating data on your reporting tool, you can measure your progress and success. This holds true not only for financial metrics but also for sustainability goals. Tracking carbon emissions and sustainability efforts becomes more feasible with consolidated reporting. 
3. Say goodbye to dirty data 
As we've mentioned before, data is the backbone to a robust travel programme. But not having clean data – or a consolidated view of your data – compromises your organisation's ability to make decisions quickly and with confidence.  
It's not the traveller who typically creates "dirty data." The tools and processes surrounding booking (i.e., your corporate travel booking software, global distribution system, or even the processes your TMC uses in the booking process) are generally the problem. Choosing a TMC with strong data governance practices ensures that the data you receive is clean and reliable. You'll have more accurate business travel reporting and a crystal-clear picture of your total corporate travel spend and activity. 
4. Making data digestible 
Numbers and spreadsheets alone don't tell the whole story…especially when those numbers aren't the ones you need.  
Customised reporting and expert analysis are essential to extract meaningful insights from the data. Off-the-shelf reports might not align with your unique business needs.  
Tailored reporting dashboards ensure that you can focus on the specific areas that matter most to your corporate travel programme. Get ready to see where your investment is yielding returns and where improvements are needed. 
5. The real-time advantage 
In today's fast-paced business environment, instant data is crucial. Knowing where your travellers are at any given moment and having the ability to track expenditures against travel budgets in real time ensures you're always in control. This is particularly vital for remote, unique, or high-risk destinations. A TMC that offers access to real-time reporting empowers you to manage travel-related issues as they happen.  
You only need one dashboard – make sure it's the right one
Ready to move all of your data under one roof?  
Meet Melon. 
Melon won't just house your data – it will make your data feel right at home.  
Want to view reports? Done.  
Manage your spend? Easy.  
Melon gives you all your travel needs on one simple platform. 
Still not ready to make the big move? Melon makes it simple by providing key integrations with leading expense and HR systems. 
Let our travel experts help you create reporting dashboards that make your life easier.  
Read more: