Skip to main content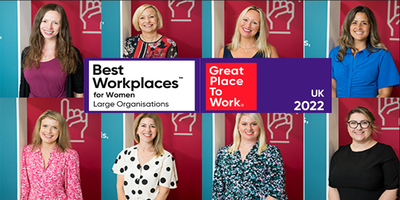 PRESS RELEASE
Flight Centre Travel Group

officially named of 2022 UK's Best Workplaces™ for Women
Flexible working, fast track training and egalitarianism among the many reasons why
20 July 2022 Flight Centre Travel Group (FCTG) has been named on the 2022 UK's Best Workplaces™ for Women list, which was revealed today by Great Place to Work® UK.  Ranking for the first time among a total of 263 organisations, the global travel leader made its debut in the 'large' category (251-1000 employees in the UK) where it is the sole travel brand.
One of the world's largest travel retailers and corporate travel managers, with brands including Flight Centre, Corporate Traveller and FCM in the UK, the company demonstrated a clear commitment to continuously listening to its female-dominated team. In adapting company policies to address employee feedback, FCTG introduced a raft of robust measures aimed at empowering women across the workplace. Recent developments include extended flexible working hours to accommodate parents with childcare responsibilities, plus a reduced qualifying period for enhanced maternity pay for a 12 month period. Additionally, earlier this year, FCTG signed the Menopause Workplace Pledge, signifying a company-wide recognition of existing and potential issues, and actively encouraging both male and female colleagues to engage in open, positive and respectful dialogue.
Commenting on the ranking, FCTG UK MD Steve Norris said: "With egalitarianism ingrained as one of the three core values of the Flight Centre Travel Group, we are proud to be recognised as an organisation with a culture that fully supports and encourages women. Our well-established mentoring programme, Fast Track, is currently made up of 67% female participants. This statistic continues to grow as we encourage more women to take on senior leadership roles. I'm pleased to confirm that we now have three of our seven UK executive team posts held by women, all of whom have progressed through the ranks of the company."
Egalitarianism is a guiding principle across all Flight Centre brands, with the belief that any man or woman performing comparable roles should be paid equally.  This is evidenced by the meritocratic wage models used across each division, brand and department. Other commitments include a seven-stage management training pathway and continuous personal development, plus a 100% return to work rate, post maternity leave.
Further commenting, Benedict Gautrey, Managing Director of Great Place to Work® UK: 
"Now in its fifth year, our 2022 list showcases the largest collection of Best WorkplacesTM for Women that the UK has ever recognised. These results are based on what women themselves have anonymously reported to us about their workplace experience and how well represented they are in the workforce and management.  Ensuring people aren't discriminated against, placing positive value on our differences, creating fair access and advancement for all, and fostering a sense of value and empowerment in employees is what being a Great Place to Work® is all about. Only by first identifying the gaps in workers' experiences can organisations truly take action to close them, which is why analysing employee experience is important. We are proud that the data and insights we provide organisations helps on that continuous journey - and it's wonderful to celebrate so many Best Workplaces™ for Women this year, across all sectors and organisational sizes."  
In awarding FCTG this accolade, the following is recognised by Great Place to Work® 
Flight Centre

is a great workplace FOR ALL, including women.

Flight Centre

is an organisation where

people trust each other and employees are able to reach their full human potential, no matter who they are or what they do.

Flight Centre

supports the

different identities women hold and ensure their daily experiences are positively and consistently experienced

Flight Centre

recognises that women are a valuable talent pool and strive for fair

representation of women in the workforce and throughout management.
The Flight Centre Travel Group (fctgl.com) is one of the world's largest travel companies with over 12,000 staff across its leisure, corporate and wholesale businesses. The company's turnover in 2019 financial year was AUD$22 billion. After starting with one shop 40 years ago, FCTG has enjoyed remarkable growth and is one of the top 100 publicly listed companies on the Australian Securities Exchange.
All specialist brands under the FCTG Corporate banner offer 24/7 support and the benefits of a blended offline/online solution; global negotiation strength and unique and superior business travel products.
The Flight Centre Travel Group (FLT) is one of the world's largest travel retailers and corporate travel managers. The company, which is headquartered in Brisbane (Australia), has company-owned leisure and corporate travel business in 23 countries, spanning Australia, New Zealand, the Americas, Europe, the United Kingdom, South Africa, the United Arab Emirates and Asia. FLT also operates the global FCM corporate travel management network, which extends to more than 90 countries through company-owned businesses and independent licensees. The company opened its first leisure travel shop in Sydney (Australia) in 1982 and listed on the Australian Securities Exchange in 1995.
About Great Place to Work® 
Great Place to Work® is the global authority on workplace culture, helping organisations to create exceptional, high-performing workplaces where employees feel trusted and valued. The UK's Best Workplaces™ for Women awards enable these outstanding organisations to celebrate their achievements, build their employer brand, and inspire others to take action. For more information, visit www.greatplacetowork.co.uk.