Skip to main content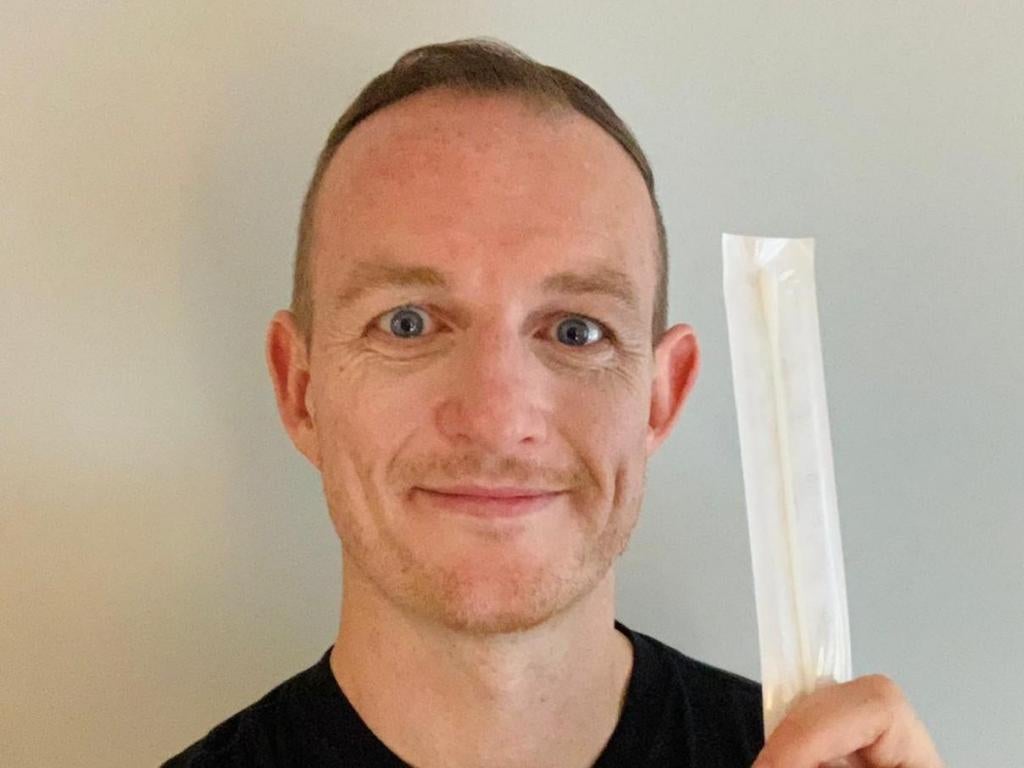 Report: Back in England after visiting an amber country 
It's June 2021. Dylan Jobson, Team Manager at Corporate Traveller travels to Portugal from the UK. At the time, Portugal is on the green list of countries but it suddenly moved to amber (if you aren't sure what we mean by colours – read our blog on the UK's traffic light system).  
We spoke to Dylan on day five of his quarantine to hear what it's like.
CT: Welcome home Dylan! Let's start before your trip even started. Did you have to arrange anything before you left?
DJ: Initially I had a green travel test package booked with Randox, which included a test for leaving the UK and a test for day 2 when I came home. Then Portugal was moved to the amber list, which meant I needed an additional test for day 8. I upgraded my package easily and the extra test was sent straight to my house. I'd decided I also wanted to pay for the Test to Release on day 5, which I booked with Collinson.
All these tests needed to be pre-booked as the passenger locator form for coming back to England can't be completed without proof of purchase of day 2 and 8 tests. It also asks whether you want to participate in Test to Release and requires you to show your proof of purchase and name the supplier of the day 5 test.
I knew that I would need to take a COVID test in Portugal three days before coming back to England. Wanting to be prepared, prior to going out to Portugal I asked colleagues where I could get a PCR, LAMP or lateral flow test. There are plenty of places in the Algarve so we arranged a test through the Tourism Algarve website.  
Corporate Traveller Tips: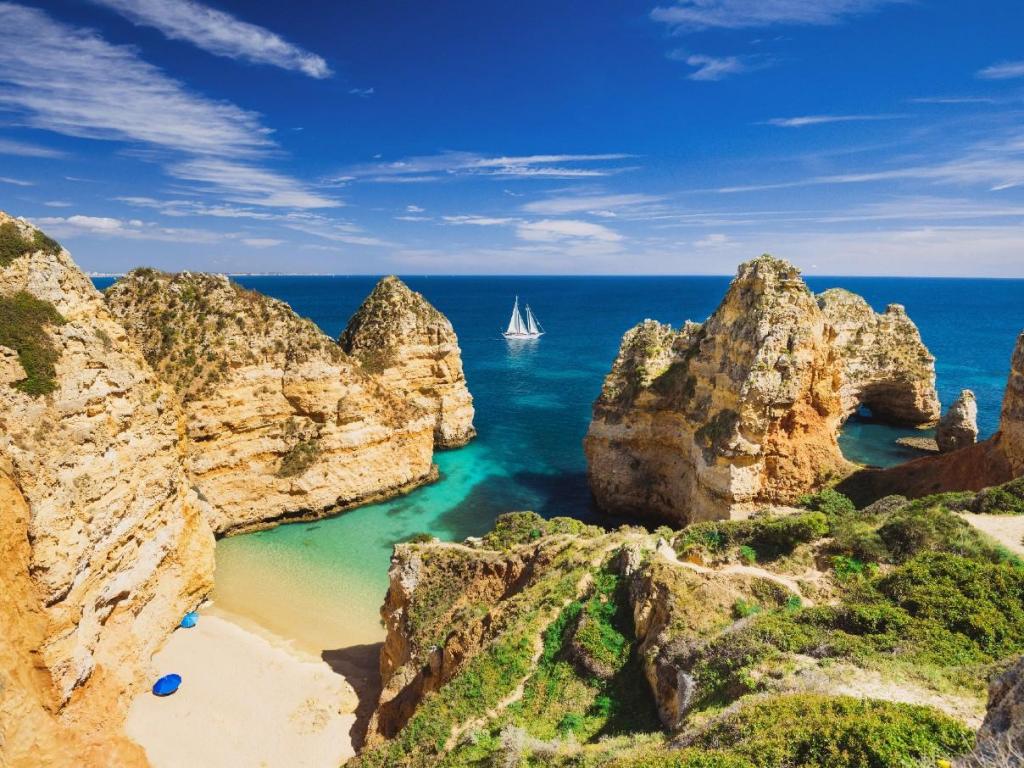 CT: Fast forward to that day. The sun's shining in the Algarve and you head to the test centre. What then?
DJ: Everything was well organised – I could just walk up with my details. I got my test results three hours later – negative! I filled out my passenger locator form for arriving back to England – this is where I had to list the suppliers I'd booked my day 2, 5 and 8 tests with. Then I was all set to return home and could get back to sunbathing on the beach.
Corporate Traveller Tip: Fill in the passenger locator form online here.
CT: Did you have to show any paperwork at the airports?
At Faro Airport check-in, they did ask to see our test certificates.
Back in England, they randomly selected who could use e-gates and who had to go up to a border official. If you went up to a counter you had to show your passenger locator form, negative test certificate and proof of purchase for your day 2 and 8 tests.
Corporate Traveller Tip: Print paperwork, just in case your battery goes.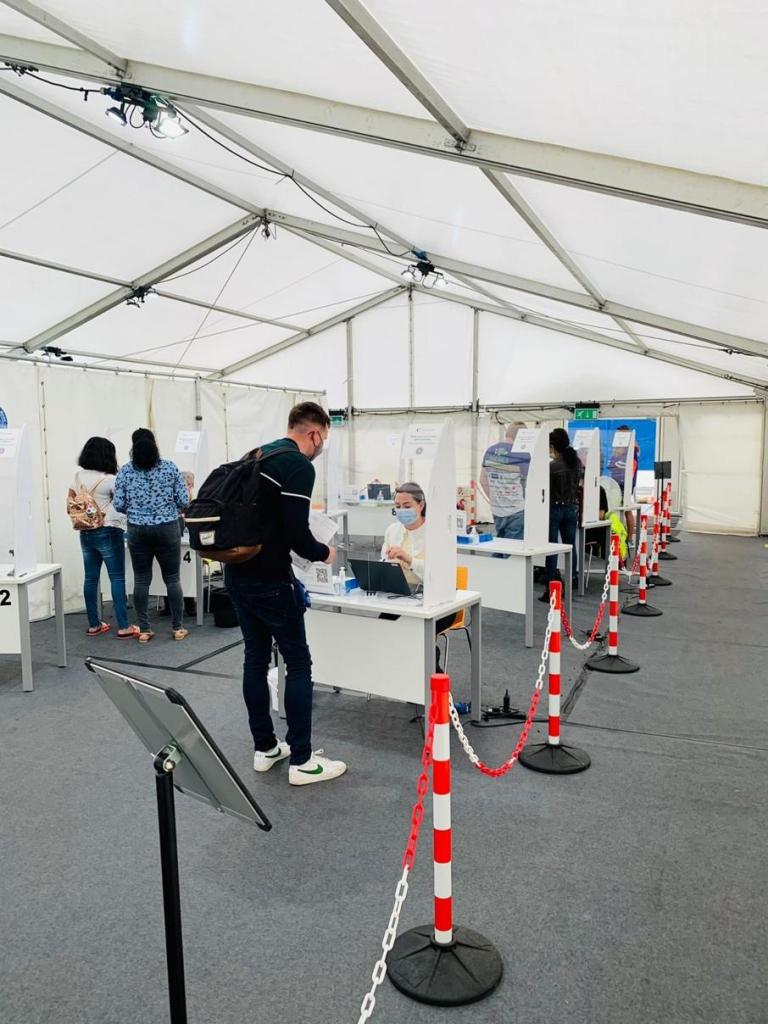 CT: Hope quarantine hasn't been too boring for you. What are you allowed to do and did Test and Trace get in touch?
DJ: Under quarantine you can't leave your home, not even to exercise or to get food.
I have been contacted every day by Test and Trace to confirm that I'm home, that I've taken my tests and to check the results.
You are allowed to leave quarantine to travel to take your test on day 5, as long as you follow safer travel guidance. I could have also left if I was in danger or needed medical attention but I didn't need to!
CT: Day 5 has arrived! Where did you do your test and what was it like?
DJ: My day 5 test was booked with Collinson at the O2 Arena in London. You can walk in or drive through. Since I don't have a car I took public transport and walk in. Collinson emailed me to confirm the booking and what I would need to take with me. Collinson's website said to head to car park 1 at the O2, so when I arrived I followed the signs to there. When I got to the car park I started to see the Collinson signs.  
There were plenty of check-in staff. After showing my confirmation and passport I was taken to the testing room where they explained I was getting a LAMP test and where to get the results. From check-in to having the test was two minutes. Collinson email you afterwards and then you have to login to the portal to see the result. They said I'd know the result by midnight.
The centre I visited didn't just do day 5 tests – there were multiple tests "on the menu", as it were! Staff said it gets busy in the morning or after work, so if you'd prefer to go at a quieter time it's best to go during the day. The sooner you take your test, the sooner you should receive your results and end quarantine, if negative. You must also take the test before 4pm in order to receive the Test to Release results by midnight. 
And you'll never guess what happened - Track and Trace knocked on my door at home while I was at the O2! I told them I was getting my test and was coming straight home after.
CT: Do you still have to take your day 8 test?
DJ: Yes. Even though I've test to release and it came back negative, I still have to take the day 8 test as well.
CT: What did you think of the experience overall?
DJ: There's obviously an additional expense and effort to travel to an amber country but everything is well set up and there are multiple options. A lot of people think that the traffic light system means they can't travel, but really the traffic light rules apply to what you have to do to get back into the UK. After months of lockdowns and restrictions it's great to be able to get away – I was on holiday but it's the same process if you were going on a business trip.  
Need help with COVID tests for your business travellers? Let's talk