Skip to main content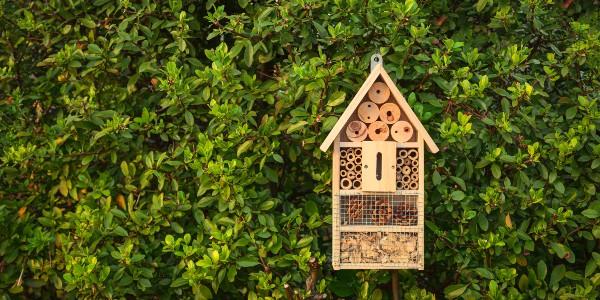 Go green or go home! Sustainable stays
In the words of businessman Jochen Zeitz: Sustainability is no longer about doing less harm; it's about doing more good.
Many hotels are now committed to doing 'more good', both for the world's environment and its people. If you want to make sure your travellers are picking the most responsible hotels, why not incorporate it in your travel programme?
Handy tips to sleep easy with a sustainable hotel programme
Play your part and reduce your team's environmental footprint. It's really not as difficult as it sounds!
Team up with sustainable partners who share your values and commitment to change.

People want to do good. They just need to know how. Educate your people on how to support your corporate sustainability targets.

Communicate and share the good-news stories about the positive impact travel can make. .

Join a group of global citizens that give back to local and global communities.

Make decisions based on reducing the environmental impact of travel.
Boost your green cred – and reap the rewards
Did you know consumers are 77% more likely to buy from a company with a solid CSR pledge (and plan) in place? From your organisation's reputation to employee satisfaction, going green can go a long way:
Reputation: Sustainability can boost your rep and your brand loyalty.

Employee Engagement:  Do good in the world and your employees will feel more satisfied with their jobs. Not to mention, new hires will line up to work for you.

Targets: Travel is a key contributor to emissions for many organisations, but a few simple changes can make a big difference.

Value: You don't need to spend more to gain more. Team up with responsible suppliers who will offer preferential rates in return for commitment.
Sustainable hotels deliver a number of wins:
Value through savings and traveller benefits

Locations that match your global travel needs

Shared vision, values and objectives that align with your culture

Partnerships that last, providing you with the support you need
Hotel eco-heroes!
These environmentally-conscious hotel chains are leading the way. Take a look at their pledges and initiatives below.
IHG Responsible Business
IHG Green Engage tracks the use of energy, carbon, and water and waste management. 

IHG Academy helps local people develop skills and improve their employment opportunities.

IHG Foundation helps make communities across the globe better places to be for all.
Hilton Travel with Purpose 
Social impact: Foster inclusive growth by enabling everyone to travel and benefit from it. 

Environmental impact: Operate and grow sustainably, reducing consumption of natural resources.

The Hilton Effect Foundation: International philanthropic charity.
Marriott Serve360 
Nurture Our World: Contribute 15 million hours of volunteer service.

Empower Through Opportunity: Invest at least $5M to increase and deepen programmes and partnerships that develop hospitality skills and opportunity.

Sustain Responsible Operations: Reduce environmental footprint by 50% across the portfolio by 2025.

Welcome All and Advance Human Rights: All associates will complete human rights training.
Accor Planet 21
An inclusive company that ensures the welfare of its people.

Encourage guests to act as multipliers of the positive effects of actions.

Establish a lasting relationship with partners, who share commitments and are working with Accor to produce innovative solutions that have a positive impact.

Work hand in hand with local communities because commitment does not end at the hotel door.

Healthy and sustainable food, with a ban on food waste.

A move towards carbon neutral buildings.
Be the change
Is it time to green your travel policy and programme? Make a start by:
Selecting sustainable suppliers

Ensuring your travel policy supports sustainability goals

Engaging with suppliers to grow your partnership

Communicating your sustainability targets with employees

Identifying sustainable travel champions

Making it easy to do the right thing

Recognising and celebrating improvement and change

Inform travellers about the changes they have enabled
How can Corporate Traveller help?
Are you committed to putting sustainability at the heart of your travel programme? We can help with:
Analytics
Hotel programme diagnostics

Evaluation of current booking trends and sustainability score

Recommendations on how to meet sustainability targets through simple changes
Sourcing
Identify the best-fit suppliers for your needs, values and goals

Deliver agreed KPIs including sustainability targets, savings and traveller satisfaction
Elevate
Traveller engagement and feedback

Travel policy review and recommendations

Communications plan to engage travellers and effect change

Ongoing programme management and reporting
Need help being more green? Let's talk